How to finalise your FTTC broadband installation: Router configuration
Posted on 26 September 2017 by Beaming Support
Router configuration
Now that your router is all plugged in and powered on (Here's a guide to router setup, if you need it) you will need to complete router configuration by following the steps outlined below:
1. Either connect your laptop/desktop PC/ tablet etc to the router wirelessly (the Wi-Fi key should either be on the bottom of the router or on a card in the box it came in) or connect your device via an Ethernet cable plugged directly into the router.
2. Once you are connected, open up your preferred web browser, for example Internet Explorer or Google Chrome.
3. Type into the top bar of your browser one of the following sets of numbers: "192.168.0.1" or "192.168.1.1". When you enter one of those sets of numbers a login screen should appear and give you the prompt for a username and password. If this router was previously configured by Beaming then you will have been supplied with these when you first got the connection, or if it is an aftermarket router then you will have to use the default username and password which should be in the box or on the router.
4. Continuing your router configuration, click on the "quick setup" option on the left hand side of your screen, as shown in the image below, highlighted in yellow.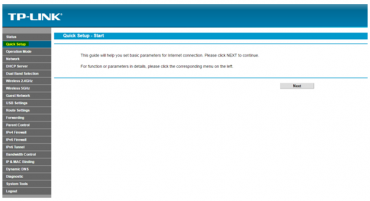 5. Proceed with the quick set-up and select your region and time zone. Then you will be given the option to set up a type of connection, this should be changed to VDSL and the ISP in our case would be set to "Other". All of the other settings that the router asks you for will have been sent to you by your ISP. These settings include the "Encapsulation Method" which will be "PPPoE" for FTTC connections. If you are missing any required information you can always contact your ISP's technical support team; at Beaming we are happy to guide you with any settings that you may encounter.
6.At some stage in the quick setup guide it will ask you for your PPP (Broadband) username and password, these will have also been provided to you, once entered this allows you to access the internet. Then you will be able to finalise any more settings that come up and then your connection should be live.
7.We recommend that if you have picked up an aftermarket router that you change the router username and password. This can be done from the "System Tools" option on the left side of the screen and then the "Manage Control" option. This will let you change the username and password of the router, which should be changed to the username and password we provided you with in your initial set up email. Your router configuration is now complete!