Our managed networks service is aimed mainly at large business for whom we provide private networks and business continuity services.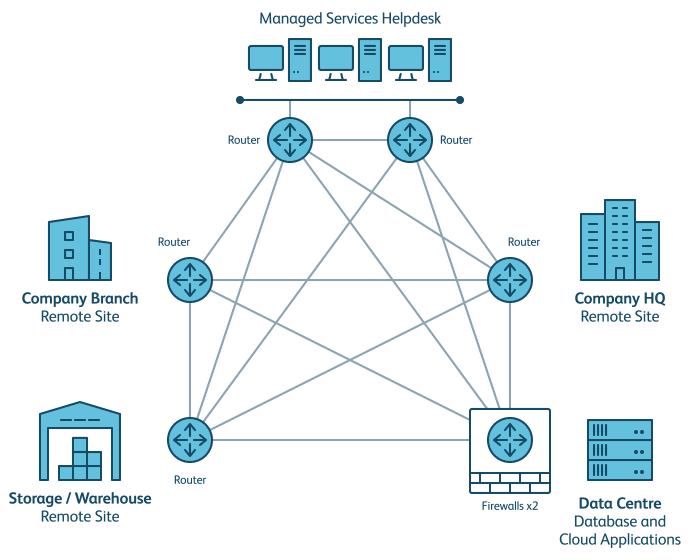 Private networks
Security is always a concern but with data circuits connecting sites together, it becomes prudent to reduce the amount of money spent on hardware equipment by using broadband technology in a clever way. A network is created between sites with one route out to the internet, which reduces the need to spend money on firewalls at each site.
Network monitoring
Beaming technicians are Cisco trained and as such we can configure Cisco routers and provide proactive network monitoring of these for those IT companies and customers using our services. We will advise the customer of any issues when detected and where possible we will resolve these issues before they become service impacting.
Cost centre billing
Larger businesses often have different cost centres for company expenditure. Beaming is happy to work with customers to create bespoke billing arrangements so that our bills can be assigned to the defined cost centres.
Business contingency
Beaming can help companies which have disaster recovery or business continuity plans. Where large companies have fibre connections, it is prudent also to have backup lines in place. We supply and monitor these lines from our network operations centre to ensure that when these services need to be used, they are readily available.
It is surprising how many companies invest in this kind of infrastructure but do not keep an eye on the condition of the services, only to find that they are faulty on the rare occasions when they come into use. By using Beaming, companies take away the pain and embarrassment of this occurring.
Furthermore, our Spamfiltering software can also be used for disaster recovery purposes. Please see hosting and cloud services section for further information.
Stay informed
Subscribe to our newsletter and receive the latest technical advice.