Communication is key when you're at the heart of the community
Sandown Primary School and Nursery is a hub of learning that aims to bring home and school together by developing close relationships with children, families and the wider community. However, until recently, the school's telephone system was not providing the support the school needed to nurture these community relationships.
Challenge
With a workforce of 86 employees, across teaching, education support staff, administration and facilities, the school had been relying on two analogue phone lines. This led to frustration and wasted time as staff waiting to make phone calls often had to wait for a free line.
Additionally, support from the previous provider was unsatisfactory, with long waits for fault resolution.
The school's Business Manager, Sue Poole, told us an all-too familiar story: "We had persistent problems with both limited and "crackly" lines and I'd spend far too much time trying to ascertain how to resolve certain issues."
Solution
We installed 33 BeamRing handsets and a Beaming broadband connection to provide resilient backup for the school telephones.
Each classroom now has its own phone and the office staff are able to access the BeamRing online portal, which allows them to log in and check call logs and recordings.
Now, many users can make calls simultaneously, without waiting for a line to become free, and there are no problems with crackly lines as the school benefits from high definition voice transmission.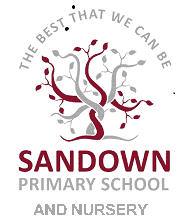 About Sandown Primary School & Nursery
Sandown school aims to create an inclusive culture of learning where all children are challenged in their thinking to achieve to the best of their abilities and strive to become lifelong learners.
'Everyone at Beaming has been polite and helpful, and they've gone above and beyond to assist. We like to work with local businesses and this mutual support reinforces our dedication to being at the heart of the community.'
Sue Poole, School Business Manager, Sandown School
Results
Clear and frequent communication with families and the wider community has always been important for Sandown, but recently that has been more important than ever.
The schedule to keep in contact with pupils and parents during lockdown would have been near-impossible to maintain with the previous system, but being able to keep the lines of communication open has been extremely valuable; "Having a reliable phone line and the ease to make these important calls has made and will make such a difference" Sue told us.
BeamRing's easy to use features have made everything run more smoothly for the school. "We never miss a call because we can check the portal and ring the caller straight back".  The portal plays an important role in safeguarding, too: "All calls are logged so we know when they've been made and by whom, and recordings mean we can always go back and check details should we need to."
Staff have thanked Sue for improving this vital service, who added, "Everyone we've spoken to from Beaming before, during and after the switchover has been great, polite, and helpful and they've gone above and beyond to assist. We like to work with local businesses and this mutual support reinforces our dedication to being at the heart of the community."
Related products & information
How Beaming helps schools