When existing broadcast technology started to be phased out, Wave FM took an innovative approach.
Radio station Wave FM, a part of DC Thomson Media's radio portfolio, broadcasts 24/7 to the Scottish cities of Perth and Dundee.  Across the region, listeners can tune in on FM radio and online.
Challenge
To improve their coverage in Perth, the radio station acquired a new FM transmitter site – 30 miles from the location of their studios in Dundee. Clearly, they needed to connect the studios to the transmitter in order to broadcast, but they ran into a problem: Up until recently the industry standard Studio to Transmitter Link (STL) technology had been BT's Kilostream service, but this was due to be decommissioned in March 2020.
The Wave FM team wanted an innovative, cutting edge solution to their STL problem. The technology would need to maintain a 24/7 link, maximise sound quality, deliver minimal jitter and keep end-to-end transmission delay to an absolute minimum.
Solution
Wave FM wanted a solution to to their STL problem, and Beaming had one: StudioNet.
Developed by Beaming and codec manufacturer SystemBase, StudioNet combines Beaming's expertise in building and operating fast, resilient internet networks with Systembase's ability to reliably transport high-quality audio streams through IP infrastructure.
Using advanced fibre optic networking and digital audio technologies, StudioNet is able to deliver uncompressed full linear audio and achieve the lowest levels of end-to-end transmission delay. It allows radio stations to deliver the highest quality audio possible through FM broadcasting.

More about Wave FM
Playing chart hits and providing up-to-date local news, sport and conversation, Wave FM is all about Dundee and Perth.
Visit Their Website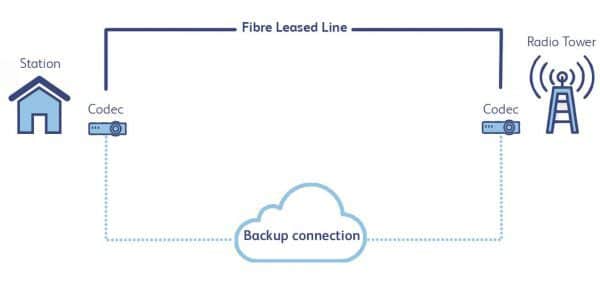 To ensure the service never goes off air, the resilience of Wave FM's service has been enhanced through the use of a dedicated network that is isolated from the internet and protected from cyber threats. 24/7 remote monitoring optimises the flow of traffic across the network and there's an automatic backup connection ready to take over in the rare event of a problem with the primary path.
'Beaming and Systembase have proven their ability to deliver everything we needed to connect our studio and transmitter locations, boosted the quality and reliability of our feed into Perth, and delivered a complete STL system for around a quarter of the cost of competing legacy services'
Adam Findlay, Head of Radio at DC Thomson Media
Result
Wave FM's innovative stance on adopting new, disruptive technology is paying off. Adam Findlay, Head of Radio at DC Thomson Media comments, "FM remains an incredibly important means of delivering radio to listeners, and with StudioNet we have taken another big step forward to improve the quality and reliability of our service. Beaming and Systembase have proven their ability to deliver everything we needed to connect our studio and transmitter locations, boosted the quality and reliability of our feed into Perth, and delivered a complete STL system for around a quarter of the cost of competing legacy services."
Download PDF of how we helped Wave FM
Related products & services