Secure access to networks that need an extra layer of protection
ProtectNet allows remote access to networked devices including computers used for home working, CCTV cameras and security alarms, without compromising on security.
Opening up the network could mean exposure to external threats, but Beaming has a solution to this problem: ProtectNet. ProtectNet provides a secure, fast and reliable method of transmission to one or many remote locations and is set up so that only authorised staff can access the network remotely, without jeopardising any security or exposing data to anyone outside of the organisation.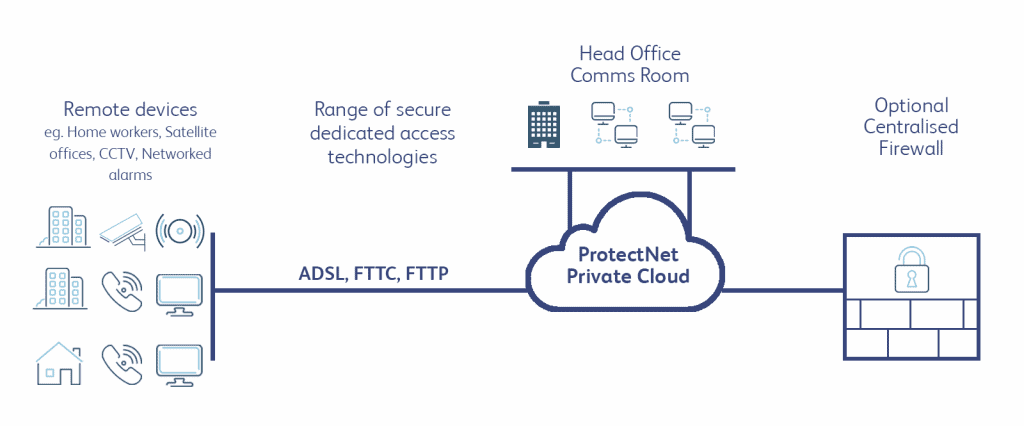 Increase resilience with ProtectNet Plus
ProtectNet Plus adds an extra layer of backup security on top of our ProtectNet product.
With ProtectNet Plus, if your wired connectivity failed due to a network issue, or perhaps your telephone lines were cut by intruders, then your internet service would automatically re-route across a 4G mobile connection. Or, if the main Ethernet fibre to the ARC were to fail, traffic would re-route across a bonded broadband backup solution. In fact, we could use a variety of connectivity services to provide a backup solution to the primary path.
Your connection is maintained and IP addressing is always preserved so there's no need to reconfigure equipment.
Why Beaming?
If you're a business looking to secure your network, or an Alarm Receiving Centre looking for a partner, here's why Beaming is a safe choice:
The next step to a secure network
If you want to find out more about ProtectNet and discuss if it's the right solution for your business, get in touch and one of our team will be happy to help; we'll get back to you within one working day.