UK businesses hit 43,000 times each by cyber attacks in first quarter of 2017
Overall rate of cyber attacks on UK businesses falls in first three months of year

Targeted attacks on Internet of Things devices almost doubles year-on-year
UK businesses were subjected to almost 43,000 cyber attacks each,on average, in the first quarter of 2017, with hackers doubling their efforts to take control of Internet of Things devices in the workplace, according to a report from Beaming, the business ISP.
92 percent of internet-borne cyber attacks on UK businesses targeted connected Internet of Things devices such as networked security cameras and building control systems that can be controlled remotely over the internet. Businesses were subjected to 39,000 attacks each of this nature in the first quarter of 2017, 84 percent more than in the same period of 2016.
The overall number of cyber attacks – 474 per business per day – was seven percent lower than the same period last year (512) and around half the rate at which companies were targeted in the final three months of 2016 (1,052).
Sonia Blizzard, managing director of Beaming, comments: "While it is encouraging to see that the number of cyber attacks on UK businesses has fallen, especially after the battering corporate firewalls took at the end of last year, we cannot be complacent. Businesses are still being probed hundreds of times a day by hackers and we've seen a threefold increase in the number of originating attackers involved in cybercrime over the last year."
Graph: Average number of cyber attacks per business per day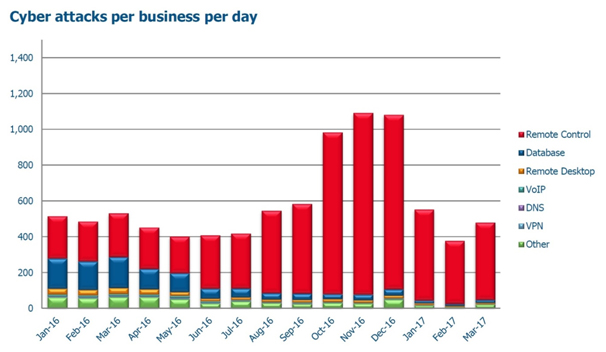 Sonia Blizzard continues: "The vast majority of attacks are computer scripts seeking to take control of devices connected to the Internet of Things. Businesses are allowing suppliers inside their firewalls to provide access to devices such as networked printers, air conditioning units and building control systems, but the holes they are making – if not done properly – can create vulnerabilities that criminals can use too. Once inside the network, hackers can take control of company assets and use them as part of a bigger hack or distributed denial of service attack at a later stage."
"Any business that is connected to the internet needs to take responsibility for cyber security at board level, review their firewall policies and ensure they are doing everything they can to ensure they don't expose their people, assets, customers and business partners to greater risk. A modest investment in next generation firewalls, unified threat management devices and intrusion detection makes a lot of sense for most businesses today."
Get the quarterly cyber threat report before anyone else
Subscribers to our cyber threat report email receive our cyber threat report first and with exclusive content. Sign up below.