Cyber threats of 2018: Attacks on UK businesses up 27% in Q1
What will the prevalent cyber threats of 2018 be for UK businesses? Our first cyber threat report of the year has unveiled that:
UK businesses experienced 600 internet-borne cyber attacks a day between January and March
The volume of cyber attacks on UK businesses originating from Europe more than doubled in March
Smart devices connected to the Internet of Things continued to be attacked at the highest rate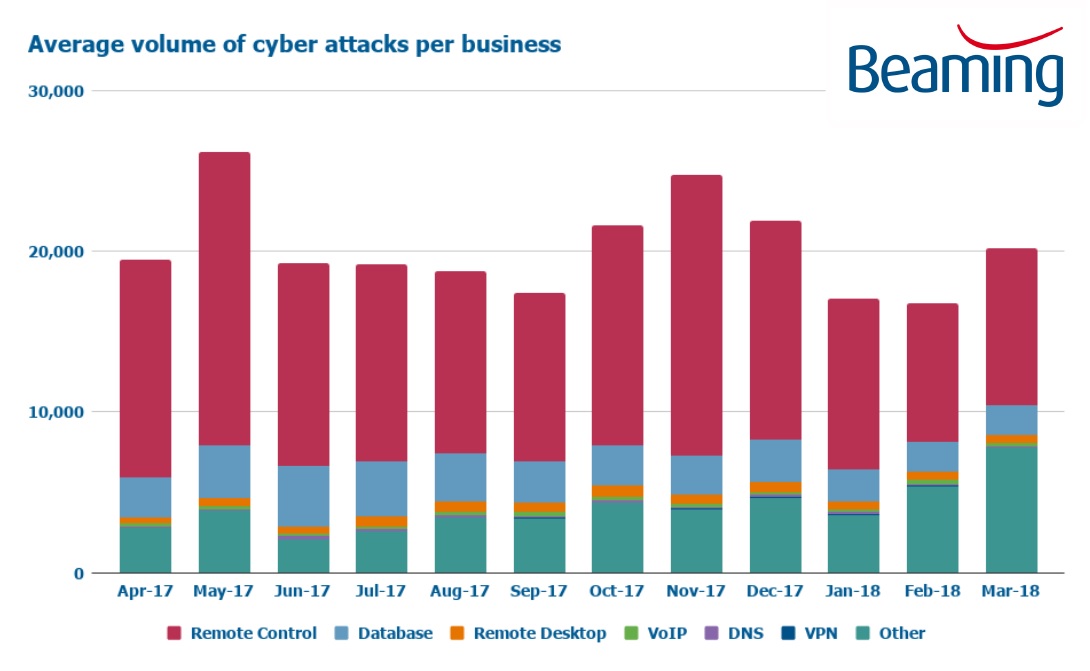 The volume of internet-borne cyber attacks on UK businesses increased by more than a quarter (27%) in the first three months of 2018, according to our research. On average, each UK firm with an internet connection experienced 600 attempts a day to breach their corporate firewalls between January and March this year, compared to 474 attempts a day each in the same period of 2017.
While one in ten (11%) of cyber attacks sought to compromise databases, more than half (54%) targeted devices connected to the Internet of Things such as building control systems and networked security cameras. Beaming believes that hackers target these devices, which can be controlled remotely over the internet, to help them launch Distributed Denial of Service (DDoS) attacks at a later stage.
The volume of attacks on UK businesses originating from European locations more than doubled during the first three months of 2018, from 3,365 attacks per business in in January and 4,469 attacks per business in February, to 8,983 attacks per business in March.
With 44% of all cyber attacks on UK businesses coming from the continent in March, Europe overtook Asia to become the most common source of attacks for the first time. More than a third (35%) originated from locations in the Czech Republic and a further 12% were from Russian sources.
Sonia Blizzard, managing director of Beaming, comments: "2018 has been the worst start to a year we've seen for the volume of cyber attacks on UK businesses, in large part due to an unusual increase in activity originating from Europe since the start of March."
"Company firewalls and IT security systems have been under constant pressure from malicious computer scripts and we've had to constantly update our network-level protections to keep up with new and evolving threats.
"It is important that businesses of all sizes regularly review their cyber security measures, monitor their IT systems and communication networks for unusual activity and take all the help they can get to stay ahead of the criminals."

Get the quarterly cyber threat report before anyone else
Subscribers to our cyber threat report email receive our cyber threat report first and with exclusive content. Sign up below.