Cyber Reports
Cyber Threat Report Q3 2019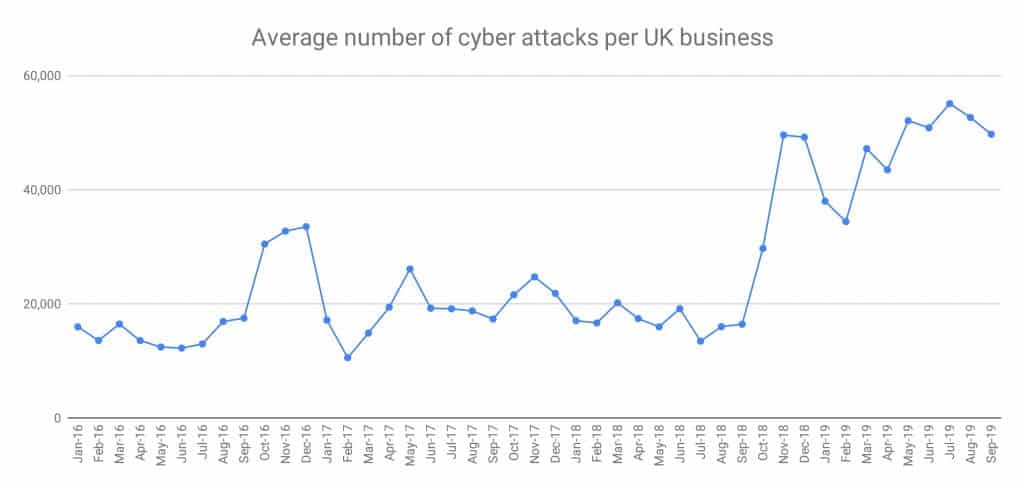 ● Volume of cyber attacks on UK businesses increased by 243 percent
● Number of attacks traced to locations in China doubled over the summer
● IoT devices and file sharing services are most frequently targeted applications
Our new analysis reveals that the level of cyber attack activity on UK businesses continued to surge over the summer, with firms experiencing 157,528 attacks each on average between July and September. This was an increase of 243 percent on the same period last year when businesses were attacked online 45,970 times each.
Beaming's cyber security analysts identified almost half a million unique IP addresses used to launch online cyber attacks on UK businesses this summer. The level of attacks originating from IP addresses in China more than doubled and there was also a large number of attacks originating in Taiwan, Brazil and Russia.
20 percent of the cyber attacks recorded by Beaming targeted IoT devices that could be remotely controlled over the internet. Six percent of attacks sought to infiltrate file sharing services.
'Companies need to boost their resilience to these sustained, indiscriminate attacks'
Sonia Blizzard, MD of Beaming
Sonia Blizzard, managing director of Beaming, comments: "Previous summers have been relatively quiet when it comes to cybercrime, but the hackers haven't yet taken a break this year. Throughout 2019 we have witnessed new highs in the volume of cyber attacks hitting organisations in the UK and also the number of active agents behind those attempts."
"We are tackling more and more malicious code at a network level to minimise the threat of online attacks to our customers. The hackers are after the weakest link they can find, so companies need to boost their resilience to these sustained, indiscriminate attacks. They can do this by ensuring their software and cyber security defences are up-to-date, putting in place measures such as managed firewalls and educating employees to help them avoid the main risks they could be exposed to."
Looking for more cyber threat stats?
Our cyber threat analysis dates back to 2016.
Don't miss our next cyber threat report
Subscribe now to receive our next cyber threat report as soon as it's released, before anyone else and with exclusive content.