Cyber Reports
Cyber Threat Report Q3 2023
British businesses experienced a new record in the number of cyberattacks they encountered over the summer. On average, each company with an internet connection experienced 183,048 malicious attempts to breach their firewalls and IT systems between July and September 2023, the equivalent of one attack every 43 seconds.
Beaming's analysis, published during Cyber Security Awareness Month – a global campaign to help people and organisations stay safe and secure online, shows that the total number of attacks was almost 6,000 more than the previous worst three-month period, October to December 2022, when British businesses experienced 177,228 separate cyberattacks.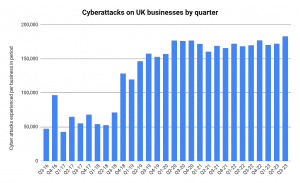 Beaming identified 278,582 IP addresses being used to launch cyberattacks on British businesses between July and October and traced a quarter (24 per cent) of them to locations in China. The number of attacking IP addresses traced to US locations increased by over 2,000 to 20,894.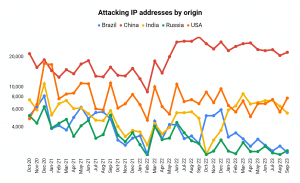 Sonia Blizzard, Managing Director of Beaming, said: "The volume of internet-borne cyberattacks on British businesses has trended upwards for the last two years and reached a new record level this summer. Businesses need to be vigilant and ensure their systems and firewalls are up to date."
"Companies encounter malicious attempts to breach their firewalls more than once every minute, as well as many more scans looking for weak points in a network that we don't include in our analysis. A single failure can wreak substantial damage to their IT systems, reputation and ability to trade if successful."
What can businesses do to protect against cyberattacks?
There are several steps that Beaming recommends businesses take to protect against cyberattacks:
Use strong passwords and enable multi-factor authentication on all accounts and devices.
Keep all software and devices up to date with the latest security patches and updates.
Use a business-grade firewall to protect your network and restrict access to authorised users.
Use antivirus and anti-malware software to detect and remove any malicious software.
Educate employees about cybersecurity and the importance of following safe practices when using the internet and company devices.
Back up important data regularly to protect against data loss from an attack.
Use a Virtual Private Network when connecting to the internet over public Wi-Fi.
Consider purchasing cybersecurity insurance to help cover the costs of responding to and recovering from a cyberattack.
Work with your ISP or a trusted IT provider to help implement these and other security measures.
Beaming are experts in protecting businesses
Our customers trust us to keep their data safe and their systems secure and as a result, we've amassed a great selection of our own cybersecurity resources, which we're happy to share.
Beaming's Cyber Analysis Methodology
Beaming has analysed cyberattacks in real-time targeting thousands of UK-based businesses since the beginning of 2016 to understand their nature and origin better. From this, it can calculate the average number of attacks businesses receive and use the results of the analysis to help organisations improve their cyber security.
About Beaming
We are an Independent Internet Service Provider for UK businesses. Serious about service with a network built for business; we make sure you stay connected.
From the resilient and secure network we've built, to the choice of tailormade products all supplied with expert service, we provide peace of mind that businesses require.