Staying safe online – not just a school lesson
Learning how to keep yourself safe online is an essential part of education today. But as well as being taught in schools, good examples should be set in the wider world too.
I was disappointed to find bad practise encouraged in a popular jotter pad bought at a local stationer. The inside-cover of the pad has a space to record 'Log-in Details etc.', this invites people to perhaps think it is acceptable to note down personal details and passwords in a place where they can be easily lost or spied upon. This will go against lessons being taught in school and messages from organisations such as UK Safer Internet Centre.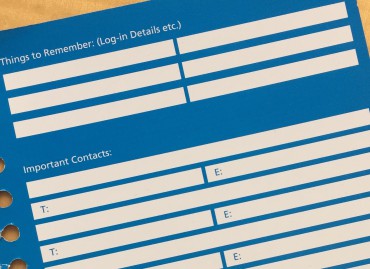 A pad such as this will be widely used by students, often taken to public places with chances of being left in a class room or coffee shop. If the personal log-in details section has been filled-out it would be very easy for cyber bullies or hackers to take advantage.
Anything that happens under your log-in will be down to you and even if it doesn't get in to the hands of cyber criminals, fellow school pupils could use the information for online bullying. Even without offering information easily, we have heard of students deliberately locking their peers out of school systems by logging in incorrectly 3 times, think what they might do if they have the correct log-in?
This is just one example of encouraging poor habits for online safety and we hope this is not common place as people become more wise to the risks.
Here are our 5 simple tips to help protect yourself online.
Passwords – they are the key to your personal data, don't write them down, use 3 random words to make them as difficult as possible to guess. Read more password advice here.
Be share aware – don't share any log-in details and only share personal information that you would be happy to announce face to face.
Watch out for viruses and malware – be cautious before downloading any attachments and report any unusual activity.
Use social media wisely – Think about what personal information you might be sharing and regularly check privacy settings.
Be cautious using public/shared computers; make sure you log out before leaving and think about who might be watching.