Supporting the arts: the right business decision
Beaming is an Internet Service Provider with clients across the UK but as a company we are very proud of our Hastings roots. We are proud to be an active member of the local business community and we see value in the meshing of business and culture locally.
It is this which makes Hastings not only a great place to live but also a great place to work, something the local council has also recognised by seeking business sponsorship for cultural events.
The benefits of event sponsorship are numerous, but it's important to find the right fit. We supply high speed broadband and telecoms, specialising in delivering business grade Ethernet fibre to art organisations who have embraced technology, as well as to corporate clients. So when it came to ROOT 1066 sponsorship, what could have been more of a match for us than the iy_project? In simple terms the lasers we use to send data around the world are being used by Chris Levine to create spectacular art. There were further parallels which came to light as the lasers for the iy_project were installed. We realised that these beautiful projections of light were created by some serious coding and very careful mapping of location, something again which we specialise in as a company. But it is more than that. Our staff may have maths and science qualifications but Beaming prides itself on service, which means that interacting with customers is a really important part of the job. The ability to engage with others and to solve problems successfully requires creative minds. We want to hire people with imagination.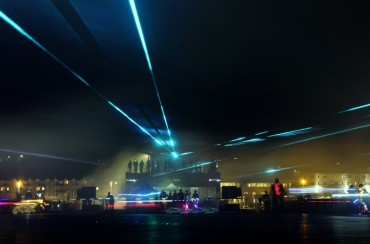 On the night itself, it rained a lot but we British do weather and it made the light show sparkle and shimmer and none of my guests left early despite getting drenched, so it was a hit. In fact it was beautiful, but moving back into business mode was it a good return on investment? What were we expecting to achieve? For us it was about PR and brand awareness. We wanted to get our name out there in a memorable way and by doing something in the local community which was fun. It had to reflect our values, be something that the company could be proud to support and which was a little bit different. I am pleased to say, that we had some great results in terms of social media reach. We have gained additional credibility locally, there is more general interest in what we do as a business and I am pretty sure it has made it easier for us when it comes to our next round of recruitment. This could be considered a return on investment in itself, as anyone who has hired people will know, and yes, there have also been sales leads.
Yet business is not just about making those financial numbers. In my opinion, to be successful you need to have a great corporate culture and a brand which attracts clients. With the arrival of the internet, there is so much information out there about companies that not only can we draw our own conclusions about their behaviour very quickly and whether we want to buy off them, but the flip side is that companies can use their values to differentiate themselves from their competition in a much more effective manner. This is especially important when it comes to the service sector. Supporting a cultural event, as we have done, is demonstrating that we want to enrich our local environment. We use the words "imaginative", "creative", "versatile" when talking about delivering customer solutions and now we can prove we recognise the importance of those qualities, that we are genuine about it.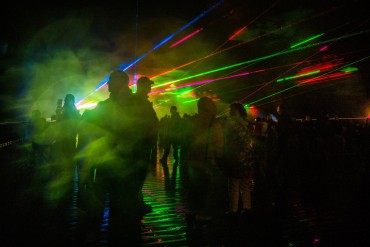 Our sponsorship of the Chris Levine iy_project also helped us internally within Beaming with our own company culture. This is the bit we did not even consider when we signed up to the sponsorship. We used the dress rehearsal as an opportunity to invite family and friends to our offices, as an open evening where our staff could show off their working environment in a relaxed way. They enjoyed meeting the team rigging the lasers who had proper kudos within the office as they had only recently got back from doing the same job at Glastonbury. There was also the natural curiosity technical people have for anything with screens and dials and a big red stop button, and then there was that wow moment when the lasers were seen at night, lighting up from the castle and the pier.
Businesses need to innovate to survive, especially in highly competitive market places, and demonstrating they are sincere is part of that. Business people also need the arts and culture because it makes them think. For these reasons I would encourage other businesses to get involved in supporting cultural events and making their own working environment, as well as the local area, so much richer.
Related links:
How Lord of Light Chris Levine lit up Hastings
Behind the scenes short film of the iy_project on Hastings Pier: https://youtu.be/w2xmXak3Z9s
ROOT 1066 http://www.1066contemporary.com/
Chris Levine https://twitter.com/iamchrislevine