Can't save all attachments from an email in Outlook 2016
Posted on 28 March 2018 by Beaming Support
Why can't I download and save all attachments?
Currently there is a bug within Outlook 2016 that does not allow you to download multiple attachments to a network drive. If you have attempted to download more than one attachment via the "Save All Attachments" button (which can be found by right clicking on one of the attachments), you may have become stuck in a loop.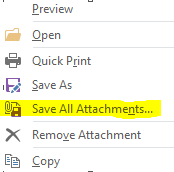 Clicking "Save all attachments" will present you with a list of the attachments names, if you proceed with this and choose a location that is within a network drive/folder the files will not be saved and you will be bounced back to the previous screen (the list of attachment names), this will continue to happen indefinitely.  There won't be an error message so some people have been getting stuck in the loop for a little while before realising the problem!
How do we fix this?
Unfortunately there's currently no ETA on a fix for this bug from Microsoft, but we do have a workaround up until the bug is patched.
We suggest that you download the attachments to a local folder such as your documents or desktop via the "Save All Attachments" button and then manually move them into the network folder of your choice via cut/copy and pasting them. Or alternatively download the attachments individually and save them to the network drive/folder directly (if there aren't too many of them).
Communication is key
And connectivity is key for communication.
Beaming is an independent Internet Service Provider bringing connectivity joy to businesses across the UK.
Avoid internet downtime
IT professionals in UK businesses dealt with 82M hours of internet outages last year.
Sign up for Beaming's monthly email updates & receive news on the latest tech to keep you online, simple shareable advice to help colleagues avoid cyber threats & how-to guides from our experienced tech team.
Clients we've supported
Our happy customers share the results they've achieved with the help of Beaming's connectivity and related services.