IT checklist for new employees
Posted on 31 May 2023 by Beaming Support
If your team is growing and you've just hired a new employee, an important next step is to put in place all their IT needs before their first day.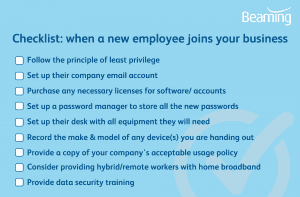 The first step is to make sure you have all of the necessary information about the new hire – including their full name, job role, where they'll be working from, starting date, and any accessibility requirements.
It's best practice to follow the principle of least privilege when setting up the new employee's user account. This is whereby the user is only able to access data that is necessary for their role – access to all other company data is blocked. Following this principle will help to safeguard your organisation's data as well as protect employees from being able to inadvertently see or change things they shouldn't.
One of the first accounts you'll want to set up is a company email account. Doing this first will a) give you time to check it is working properly, and b) allow you to send useful information to it ready for their first day.
It's likely that your new employee will needs access to different online accounts or software. You might also need to purchase new licenses for certain software (including VoIP telephony systems), so getting these set up and in place ahead of time will be a good idea.
With all the new accounts you will be setting up, it's a good idea to use a password manager. This will ensure your new employee can have strong passwords, unique for each account, without feeling the need to repeat any passwords/ write them down. When setting up their accounts, make sure to set up two-factor authentication (2FA) where possible, to make sure accounts have the maximum levels of security. Learn more about 2FA here.
Next, you'll want to make sure their desk is ready for their first day. Assess their computing and telephony needs – and then set up their computer, monitor, keyboard, phone, and any other equipment they might need. Again, doing this ahead of time will allow you to check that everything is working as it should, and that any technical issues can be resolved before your new employee starts.
If you are intending to hand out any company devices, such as mobile phones or laptop, make sure to keep a record of every device you are giving to your new employee. This will make the end of employment transition easier,
It's also important that everyone is on the same page in terms of acceptable usage of company devices – whether they are remote devices or solely in the office. If you don't already have one; put an acceptable usage policy in place, and provide a copy to every member of staff, so that there's no ambiguity with what you will and won't allow. Your internet access policy can also be set up to automatically block certain categories of websites from being accessed.
Another important consideration for remote or hybrid workers is broadband. Particularly in fields where data security is paramount, setting your new employee up with a separate broadband connection at their home purely for work use can be beneficial. Aside from improving security, it can also guarantee that the employee's connectivity won't be affected by other members of their household being connected to the same broadband. Here's some more information about providing broadband for home workers. 
When your new employee's first day arrives, a crucial step is to make sure they undertake data security training before they are allowed access to any device connected to your company systems.
These measures should ensure that your new team member is able to join and settle into their role as seamlessly as possible, while keeping your organisation secure.
What about when an employee leaves? Find out how to protect data when someone leaves your organisation.
Want to learn more about cybersecurity? Visit our free cybersecurity resource hub for advice, guides and quizzes.
Interested in Beaming's User IT Support? Contact us below.
About Beaming
We are an Independent Internet Service Provider for UK businesses. Serious about service with a network built for business; we make sure you stay connected.
From the resilient and secure network we've built, to the choice of tailormade products all supplied with expert service, we provide peace of mind that businesses require.