Working from Home
Six workwear styles for the home office
'Dress to impress' is a mantra that seems to have gone out of the window now most people work from home. A snap poll of Beaming's friends and family on social media suggests that office attire has given way to activewear and comfort clothing – while video conferencing aficionados are dressing up, but only from the waist up.
Here is a quick guide to the most popular (if not necessarily the most fashionable) outfits worn to work in the UK right now. Be warned: if you are a business leader looking to ensure standards, you may have to put some new policies in place.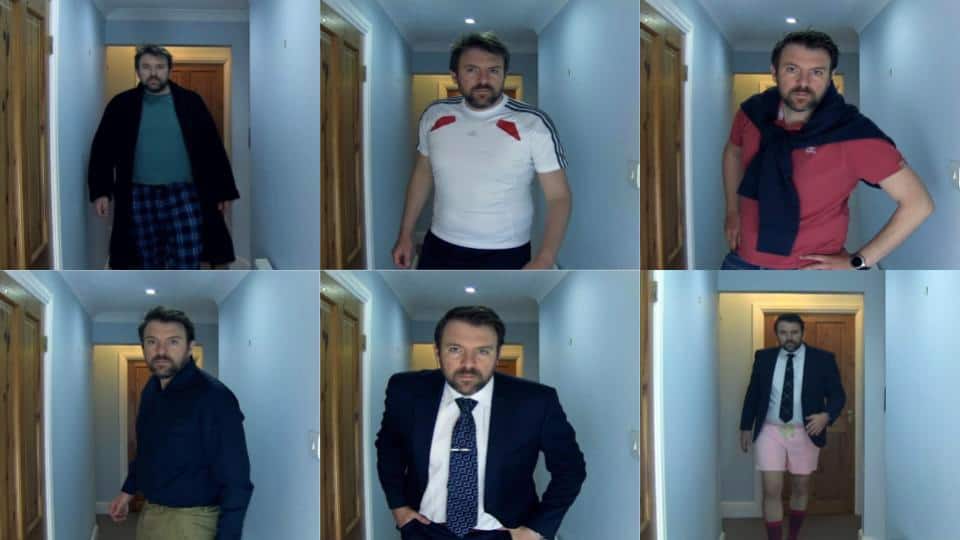 #1: Just Out of Bed.
Frequently seen on the parents of school-aged children, this style involves pyjamas and a dressing gown, often twinned with tousled hair and a jaded expression hinting at too many glasses of red the evening before. The JOB look can be transformed for a forgotten video conference with a headband, hoodie and simple explanation that you've been working out with Joe Wicks (see Activewear). Many who start work this way realise their mistake by late morning, take a shower, de-furlough their razor, and dress appropriately for lunch.
#2: Activewear.
They say 'dress for the job you want', so it seems many homeworkers harbour aspirations to be personal trainers, PE teachers or actual sportspeople. Activewear may be comfortable, require zero ironing, and show you're keen for your daily exercise, but professional it is not. Items may include, but are not limited to: hoodies, joggers, sweatshirts, dance leggings, rugby shirts, football tops, and – worst of all – cycling shorts. Exceptions are allowed for company branded sportswear (provided it isn't skin tight).
#3: Weekender.
Slightly more professional than those who choose Activewear (but still not office-appropriate) is the Weekender, by which people wear better items from their out-of-work wardrobe for working-from-home purposes. Quick and relatively comfortable, the Weekender typically involves t-shirts, leggings, polo shirts and jeans, as well as a sweater or the ever-adaptable hoodie. Shorts will also feature prominently in warmer weather. Some of the better-dressed people in this category could be confused with Smart Casual.
#4: Smart Casual.
Similar to Business Casual, the Smart Casual style of dressing for work has confused people since the term first wormed its way into common parlance in the 1990s. Few people have figured out whether jeans actually count, but plenty are rocking the Levis at home right now. The Smart Casual gentlemen can stay home and stay fashionably safe with chinos, a button-front shirt and Espadrilles (after all, no-one can see your feet). For ladies, a blouse / lightweight sweater and classic black jeans combination will ensure you stay a cut above the rest.
#5: Suited and Booted.
Despite the opportunity to try a range of alternatives, there is a group of traditionalists that should be applauded for their consistency. These are people for whom routine is essential, and whose commitment to shirt and tie, or smart dress and jacket, is a statement of professionalism. Suited and Booted homeworkers will be showered, dressed, and ready for work by 9 am each weekday morning, entirely focused on the tasks in hand.
#6: Upstairs Downstairs.
It's not just newsreaders that (allegedly) don't wear trousers. One of the more popular lockdown looks is a strange workwear phenomenon whereby people make themselves presentable from the waist up only. Upstairs Downstairs dressers save seconds each morning by focusing attention on ensuring the top half of the body is match-fit for the demands of video conferencing. Below-the-belt areas are clothed in pyjamas, sportswear and other items more suited to the titular character of The Big Lebowski.
10 steps for better team work when working from home
For more articles form our home working series including latest cyber security tips, sign up to receive our monthly bulletin