Business News & Tips
How to secure network access for remote working teams
The challenges of the new ways of working
With  flexible home working set ups now a permanent fixture in place across various sectors, IT teams need to find a way to make it easy for teams to access remote networks in a way that doesn't jeopardise the security of the network.
Beaming's managing director, Sonia Blizzard, explains the cyber security risks associated with remote working: "As home and hybrid working become increasingly common, businesses are creating a host of associated risks and concerns by opening their networks up to employees in varying locations and a myriad of unknown and unmanaged domestic internet connections. Each of these is a potential point of failure offering hackers easier access to company systems over the public internet."
How can we secure remote workers?
Though of course they will continue to play an important role in keeping your business network secure by following best practice guidance, business leaders now need IT solutions that help secure remote workers without placing the onus on them to detect and deflect cyber attacks whilst working from home.
Beaming's Homeworker ProtectNet is the first private cloud network explicitly designed to improve home working reliability and security for businesses with teams working from home.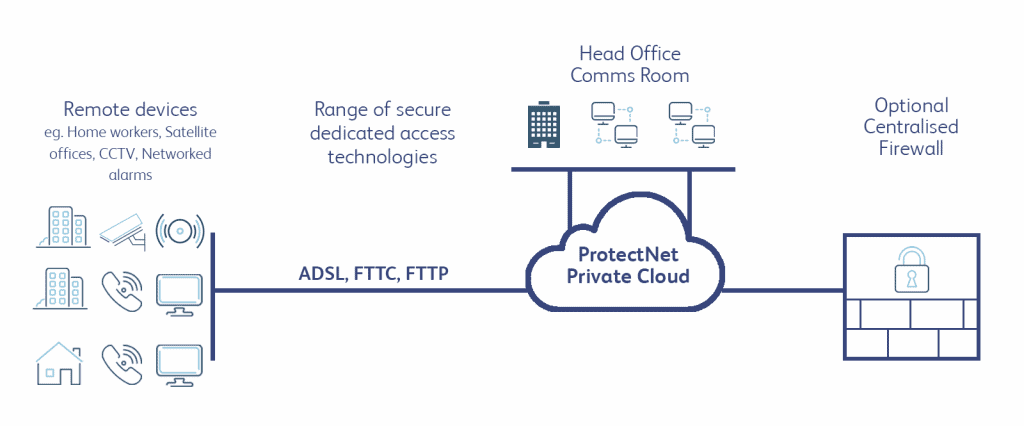 Homeworker ProtectNet extends an organisation's IT network into employees' homes by creating a private cloud environment for workplace applications and company traffic. Employees access the network with specialist business connections that provide dedicated bandwidth for work and allow IT staff to retain control of all hardware on the network.
Instead of multiple employees interacting with company systems over the public internet, Homeworker ProtectNet provides authorised personnel with access to the network using a private connection that is kept entirely separate to their personal internet activities. Access to the internet is granted through a single point in the network that is monitored continuously by Beaming's technicians and protected with the highest levels of cyber security.
All this means that business applications and company data are given priority and the security they deserve, preventing unauthorised access and ensuring that remote workers can work more freely – without being slowed down by competing traffic from family members or bottlenecks across the public internet. Using ProtectNet, organisations can add employees and connections to the network quickly as their remote working teams expand, and switch users if there is a change in personnel. All data resides on Beaming's UK network, allowing organisations to pinpoint precisely where their data is held.
With internet connectivity and remote network access for home workers all managed by Beaming, set up and maintenance of ProtectNet is simple for IT teams – any problems can be easily identified and rectified without juggling various suppliers, and you know you have the support of experts who speak your language.
Read next: How can I manage remote and hybrid teams effectively?
Secure network access for your remote workers with ProtectNet
To speak to one of our friendly team about securing your home workers with ProtectNet, fill in the form below and we'll call you back within one business day.
More help with remote working