L2TP/IPSEC VPN is not working after Windows update
Posted on 1 July 2018 by Beaming Support
Has your L2TP/IPSEC VPN stopped working following a Windows update?
Since Windows have rolled out their 1709 patch, users have experienced problems with their L2TP/IPSEC remote access VPN not working. After making the update, users were greeted with this error:
"The network connection between your computer and the VPN server could not be established because the remote server is not responding. This could be because one of the network devices (eg firewalls, NAT, routers, etc) between your computer and the remote server is not configured to allow VPN connections. Please contact your Administrator or your service provider to determine which devices may be causing the problem." (See the screenshot below)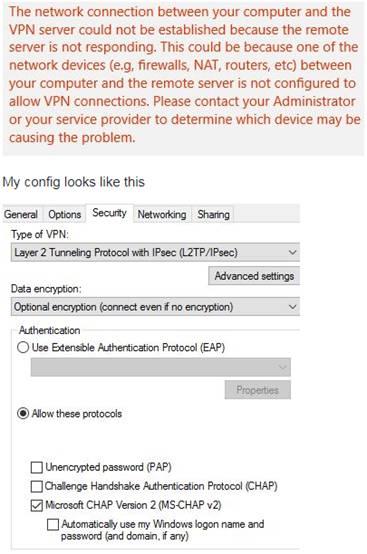 The main reason why this update stopped L2TP/IPSEC VPNs from working is that NAT traversal was disabled.  To get your VPN back up and running, just follow our instructions.
The below registry edit will fix the VPN.
Using Windows Registry Editor Version 5.00:
[HKEY_LOCAL_MACHINESYSTEMCurrentControlSetservicesPolicyAgent]
"AssumeUDPEncapsulationContextOnSendRule"=dword:00000002
After you apply this change the very final step is to reboot the computer and your VPN connections should now work.
Get the best of Beaming straight to your inbox
Sign up for Beaming's monthly email updates & receive news on the latest tech to keep you online, simple shareable advice to help colleagues avoid cyber threats & how-to guides from our experienced tech team.