Press Releases
Two-thirds of SME cloud users plan cutbacks to combat rising costs
Braced for a 10% increase in cloud costs this year, a report shows that 33% of SMEs plan to reduce the amount of data they store in the cloud and 24% to reduce the number of cloud services they use.
Almost two-thirds (62%) of UK small and medium-sized businesses (SMEs) that use cloud computing will take steps to combat the rising of these services by the end of 2023, according to our latest report.
Beaming's Making the cloud work for UK businesses report, which draws on a study of SME leaders conducted by Opinium, reveals that – on average – UK SMEs spent almost 2% of their turnover on cloud services in 2022. This amounts to more than £4 billion across the whole population.
Although more than a quarter (27%) of SMEs initially adopted cloud to reduce computing expenditure, companies expect a 10% increase in the cost of cloud services during 2023. Several major cloud providers have introduced double-digit price increases for services used by SMEs this year, including IBM, which last week announced plans to increase cloud prices by up to 29%.
Facing increases in the cost of cloud computing that far exceed inflation, just one in five (20%) SMEs that use the cloud said they would absorb the extra costs. Most plan to take action:
A third (33%) said they would reduce the amount of data stored in the cloud this year
More than a fifth intend to cut the number of cloud-based services they use (24%) or downgrade some subscriptions to basic services (21%)
One in six (17%) plan to move data or applications from the cloud to on-premise systems
Sonia Blizzard, Managing Director at Beaming, commented: "While the cloud has delivered many benefits to businesses, the cost of cloud has been creeping up for some time now, and at some providers, that creep is starting to look unjustified to businesses dealing with wider inflationary pressures. Many SMEs, some of which rushed to the cloud to support remote working during the pandemic, are questioning the value of these services for the first time and taking action to get on top of those cost increases."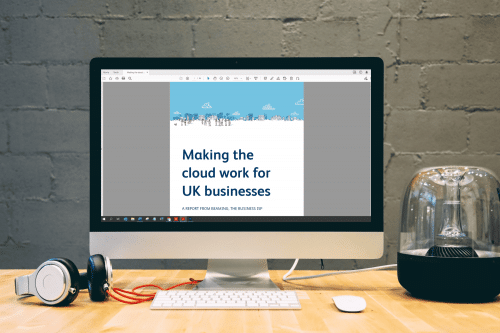 Download your free copy of Beaming's Report: Making the cloud work for UK businesses:
The report contains insights and useful guides, including: 
IT trends in UK businesses – results from our survey of UK business leaders
4-step guide: How businesses can reap the full benefits of cloud working
The cost of cloud: Facts and figures
What are SMEs doing about the creeping cost of cloud?
How can businesses get their cloud spending under control?
5 step guide: Reviewing your cloud costs
About Beaming
We're Beaming, a specialist internet service provider (ISP) for businesses. We've been helping organisations across the UK with fast, reliable, and secure voice and data connectivity, as well as managed services, since 2004.
From the resilient and secure network we've built, to the choice of tailormade products all supplied with expert service, we provide peace of mind that businesses require.
We know that your business is unique, so we take the time to get to know you and your specific needs. If you're looking for a reliable ISP for your business, we'd love to chat.