The faster the internet, the smoother the business. Let Beaming help you reach download speeds of up to 76Mbps with a Superfast fibre broadband connection.
Fibre to the Cabinet (FTTC) is a high-speed broadband service that's sometimes called Superfast Broadband or fibre broadband.
Why choose FTTC from Beaming?
Our network is our own and designed for business customers
Low contention rates – you will get the speeds you pay for
Quick and easy set-up in your new (or existing) premises – and our knowledgeable teams always keep you in the loop
Constant support from our friendly help desk, they never read from scripts and are skilled to help you straight away
Competitive pricing
Contact us for a quote on 0800 082 2868 or send us an email.
How FTTC works
It's provided by delivering the fibre network right to the Openreach green cabinet in your street. The final link, from the cabinet to your premises, is made by a run-of-the-mill copper telephone line, but this is far better than the copper line coming all the way from the local exchange.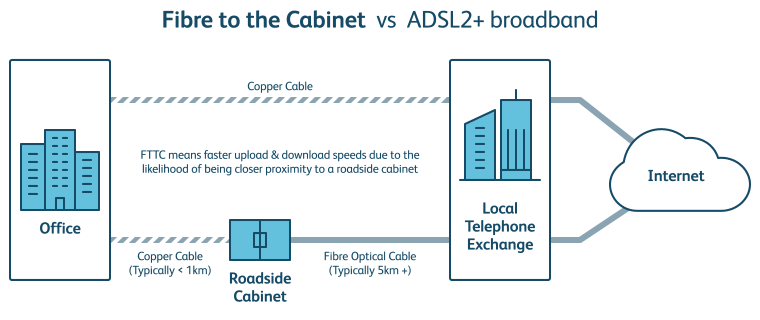 In a nutshell, FTTC gives you higher connection speeds. By Openreach bringing the fibre closer to your premises, you could achieve up to 80Mbps download speeds and an upload speed of 20Mbps. Of course, it all depends on how close you are to the Openreach green cabinet. But with traditional ADSL broadband, the maximum download speed is 24Mbps and 2Mbps for upload. And that would require you to be right next door to the exchange. As green cabinets are more numerous than BT exchange buildings, the chances of getting higher speeds on FTTC broadband are much greater.
Zippier broadband simply takes the waiting time out of transmitting data and accessing information using the internet. And that includes any applications delivered via the cloud. It's particularly great when you're connecting to other locations within your business or for people working remotely. And, if your organisation requires Business Resumption Planning, our FTTC product is also suitable as a backup service for an Ethernet fibre connection.
Learn more about how we've built our network especially for business.
Stay informed
Subscribe to our newsletter and receive the latest technical advice.