Seamless remote working for the Adastral Group
The Adastral Group is a specialist sales consultancy organisation delivering training, coaching and consulting to help businesses improve sales performance. With one eye always on the future, Managing Director Martin Willard knew there was likely to be a move towards the virtual delivery of training, but he couldn't have predicted quite how quickly this would happen.
Challenges
Usually, Martin would spend 90% of his working time delivering face to face training to clients worldwide, with 10% of his time used to deliver virtual and online training courses. Seeing that his clients' preference would likely move towards more remote coaching and consultation, he was keen to "de-risk" his home working set up by adding a second broadband line to his existing home connection.
When the Covid 19 crisis hit, this move towards virtual training accelerated quickly, and Martin's home working setup was put to the test.
Solution
The Adastral Group prides itself on the high quality, high value service it provides to clients and Martin knew that the connectivity used to deliver virtual training would need to match that; there would be no room for poor quality video calls or any loss of connection. With a high speed broadband connection from Beaming he was confident that his new line would be built for business, with low contention and plenty of redundancy.
Maintaining one network for work and one for home use added further redundancy and security to the setup, and ensured that whilst the family was at home during the UK lockdown, Martin's children were able to participate in home schooling, stream films and play games online without causing any interruption to his work.
Setting up the connection "couldn't have been easier" Martin told us. "I received a box in the post with a router inside, I plugged it in and on the day I was told, at the time I was told, all the lights came on and everything worked. It was flawless."
'It pays for itself as an insurance on the services we provide.'
Martin Willard, Managing Director, The Adastral Group
Results
With businesses sending staff home to work, many took the chance to use some of the time that would have otherwise been spent commuting to up-skill their employees, and demand for training increased. Although this meant there were some unusual start times when it came to working with international clients, Martin had peace of mind that his connectivity provided a world class service.
"Being able to utilise video conferencing, screen sharing, online whiteboards and breakout rooms means I can offer an immersive experience that delivers great learning outcomes."
"With Beaming, I get a service that's suitable for big business, but it comes with the personal touch; they make you feel like they know you. When I've called in for support with small things like password changes nothing more could have been done and nothing could have been done better."
Martin knows that investing in a second broadband connection from Beaming is an investment in his businesses, he says: "it pays for itself as an insurance on the services we provide".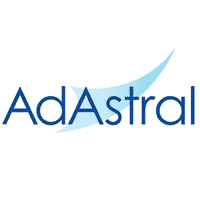 More about Adastral
The Adastral Group is a specialist sales consultancy organisation that helps businesses improve sales performance. They do this through consultative engagements that deliver the right skills, training, coaching, tools, techniques and people capital.