Lexmark printer suddenly won't print on both sides
Posted on 6 April 2018 by Beaming Support
Printer problems come up frequently and are a cause of frustration for many. If your Lexmark printer suddenly won't print on both sides (in duplex), try these steps before calling your IT support.
Printers can stop printing in duplex for a variety of reasons.
One reason we come across often is that the main paper tray may accidentally become set to the wrong paper type. With business class network printers, the fix is simple.
1.Log on to the printer via its IP address and look for an option called 'Paper Menu' or similar.
2.You should see something like this.

3. If you select the Tray 1 type drop down, you will see many options, as below.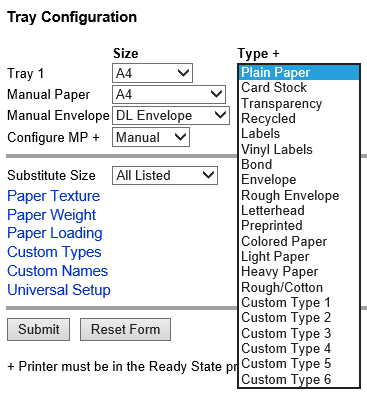 4.If the selected option isn't "plain paper", then the printer may stop printing duplex. Simply changing this option back to "plain paper" will allow the printer to print on both sides of the paper.
Sometimes the printer will show an error on screen to alert the user of the reason for the problem, but not always.
Unfortunately there have been many occasions where a printer's paper type for the main tray has been changed, and if a user knows they did not do this themselves it may not be something they'll think to check. However this could have been done by another user accidentally (though don't be too quick to blame your colleagues; sometimes the printer has changed automatically because it has detected a change of some sort.)