What to expect in a data centre
Posted on 22 March 2023 by Beaming Support
You might visit a data centre on a tour when deciding where to host your equipment, or you might already use a data centre, and you need to visit to change some equipment. Whatever your reason for visiting, it's good to know what to expect before you walk in.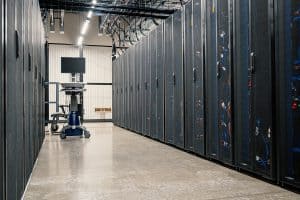 An example of what a data centre may look like
Entering a data centre
Appearance: data centres are built to be functional – not pretty. So, most of the time, you should expect to see a rather plain-looking building, with lots of doors and cages inside.
Security: One of the most important features of a data centre is its security. The physical security measures you're likely to see are tall fences, high-quality security cameras, locked doors, and locked racks. Data centres will be monitored 24/7, either by an on-site security guard or through a remote control room using CCTV monitoring.
What you'll need to bring with you: Because security is so important in data centres, you won't just be allowed to turn up and walk in. You'll have to bring an approved form of photo ID with you, and you'll have to be on your company's 'access list' of people they allow to enter the data centre. Even then, a lot of the time you will also have to email/call ahead of the visit, to confirm that you will require access within a specific timeframe.
For a detailed checklist of what you'll need to bring, read our blog: What kid of servers/equipment will I need in a data centre?'
Accessing your equipment: depending on the data centre you choose, you might access your equipment using a physical key, a combination lock, a phone app, through an online portal or you might even have a staff member with you who will unlock gates and doors.
Equipment in a data centre
Racks: data centre racks are purpose-built organisers designed to keep your servers, cables and other equipment neatly in one place. They are tall, open frameworks made up of multiple shelves, with enough spacing in between to allow for sufficient air flow to keep your equipment cool and operating efficiently.
Cabinets: these are similar to racks, but can provide higher levels of security for your equipment as they are locked to anyone without the appropriate clearance. Because they are sealed, they are also better equipped for temperature regulation, and it's less likely that the equipment inside can accidentally get damaged.
Blanking panels: these are simply metal or plastic sheets used to fill empty slots in a server rack. These help to maintain the temperature of your servers by separating hot and cold air zones, and can be easily removed when the slots are needed for servers. Equipment must be kept cool, to prevent damage from being caused.
Cages: in some cases, your racks/cabinets will be behind an extra layer of security, by being in locked cages within the data centre.
PODs: similar to cages, but are a more controlled environment that house multiple racks/cabinets and depending on the size of the POD, they could house cages within.
Rails: these are installed into server racks, and allow the servers to easily slide out, for both speed and ease of access.
Cable management bars: these attach to the racks and do what they say on the tin – they keep all your cables together, neatly. Keeping them organised means that when you need to change a cable or add in a new one, it's a simple process and you don't need to waste any time untangling, or figuring out which cable is connected to which piece of equipment. Bent cables can also result in sub-par data transmission, causing issues for your equipment.
Features of a data centre
Rooms to unbox: Items such as cardboard are strictly prohibited in the main areas, due to how flammable it is, and the risk of dust particles contaminating the equipment. Because of this, most data centres have dedicated rooms to unbox your equipment in. It is expected that you leave a data centre in the exact same way you found it – with no rubbish left behind, and nothing on the floor, even within your own dedicated areas.
Hot/cold aisles: This layout in a data centre involves having server racks facing each other, so that the cold air intakes (on the front) face other cold air intakes, and the hot air exhausts (on the back) face other hot air exhausts. This is primarily to maintain steady, cool temperatures, while saving energy.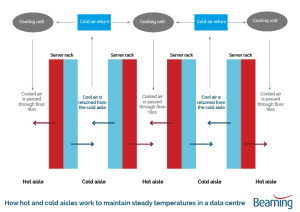 Flooring: In order to trap dust and other particles (from clothing, packaging materials etc) data centres will have speciality flooring. This is important – according to data centre industry research, up to 70% of computer related breakdowns are caused by debris such as dust. The floors are also often raised to help control air flow through the data centre, and perforated floor tiles can be placed in cold aisles to help maintain the temperature.
UPS: Data centres should have an Uninterruptable Power Supply (UPS) as a backup to prevent loss of data in the event of a powercut. The UPS will supply power to the data centre for a set amount of time – either enough to last until the main power supply comes back on, or enough to safely power down the equipment inside.
Backup generators: For the same reasons, most data centres will also have backup generators, to keep them running in the event of a power outage.
Hopefully, you should now feel prepared for what to expect when visiting a data centre for the first time.
For more information and advice, have a look at these knowledge base articles:
Get in touch
Call us on 0800 082 2868, or fill in the form below to discuss moving your servers to a data centre.
About Beaming
We are an Independent Internet Service Provider for UK businesses. Serious about service with a network built for business; we make sure you stay connected.
From the resilient and secure network we've built, to the choice of tailormade products all supplied with expert service, we provide peace of mind that businesses require.