Does cloud storage involve a physical location?
Posted on 19 June 2023 by Beaming Support
In recent years, the expansion of cloud computing has made its way into the operations of businesses of all sizes across the UK.
Despite this, many business owners still know very little about the places in which most, or all of their data is held.
Where is 'the cloud'?
A common misconception to those new to the idea of the cloud is that because it's internet-based, it doesn't have a physical location connected to it.
In reality, the cloud is hosted on servers, which are physical pieces of equipment that have to be stored somewhere. From London to New York, the Arctic Circle to under the sea, there are over 8,000 data centres globally, so it's important to know which one your data is being hosted in.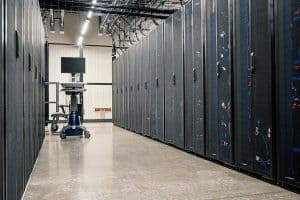 One example of a data centre, where servers are stored.
What difference does it make where my data is stored?
It's important to note that it is ultimately your business's responsibility to keep your data safe – but using cloud services means that some of that responsibility is delegated to the cloud provider. Make sure you are aware which aspects are your responsibility and which will fall to your provider and be confident the provider meets your requirements.
Laws and regulations
Different countries have different laws and regulations regarding data security – this is known as data sovereignty.
For example, you should have heard of UK GDPR, or the Data Protection Act. Data centres in the UK will have to comply with UK GDPR, and so you can be confident that your data will be stored and dealt with in accordance with the law.
If your business decided to use a data centre in America for example, that data centre would need to comply with American data laws, which won't be the same as those in the UK.
If the country you're storing the data in has been recognised via an 'adequacy decision', that will suffice in terms of UK GDPR. If it hasn't been recognised, you will need to put a contract in place with your cloud provider, to ensure your data is being stored and processed correctly. Learn more about UK GDPR on the ICO website.
Essentially, your business is still required to meet the obligations of UK data laws, regardless of where you choose to store your data. If it doesn't it would be liable to pay fines, as well as being subject to other penalties. This added layer of bureaucracy when dealing with overseas cloud providers means for most UK businesses, it makes more sense to have a cloud partner who have data centres in the UK too.
Reputation
Even when choosing a cloud provider based in the same country as your business, it's still important to ensure that their security is up to scratch. If your data gets stolen or leaked, the reputational damage can be enough to make your business fail – the British Chambers of Commerce found that 93% of companies that suffer extended data loss of more than 10 days file for bankruptcy, and many customers shun businesses they feel they can't trust to keep their personal information safe. Ask cloud providers about their accreditations, and the steps they take to keep your data secure.
To conclude
Overall, data is one of the most valuable assets your business holds, so it's important to partner with a cloud storage provider you can trust to keep your data secure.
The NCSC has written guidance on how to choose a cloud provider, including confidence in the service and independent verification.
Beaming is a business-only ISP with ISO27001 accreditation, meaning we are held to the highest standards of information security management. We provide managed services and support many UK businesses with cloud storage, as well as offering colocation across a number of data centres in the south of England.
About Beaming
We are an Independent Internet Service Provider for UK businesses. Serious about service with a network built for business; we make sure you stay connected.
From the resilient and secure network we've built, to the choice of tailormade products all supplied with expert service, we provide peace of mind that businesses require.