FTTP broadband equipment
Posted on 28 June 2023 by Beaming Support
Making the move from fibre to the premises (FTTP), also known as 'ultrafast' broadband, will require new technology from that used for 'superfast' fibre to the premises (FTTC).
But what equipment will be involved in the upgrade? This article will lay out the hardware that will be used in your new FTTP service.
Sockets v Terminals
With your current FTTC service, you will have likely seen a 'master socket' on your wall. This is where your telephone line is connected to your property.
FTTP uses an ONT (Optical Network Terminal) which allows the engineers to run the fibre into the premises. Appearance-wise, the ONT will look similar to the master socket, although the connectors are on the bottom of an ONT compared to the front of a traditional master socket.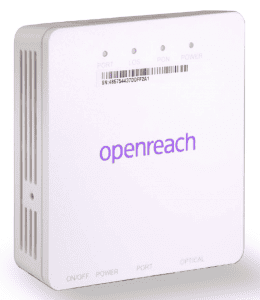 Left: a master socket. Right: an ONT.
The ONT joins to your router by one simple ethernet cable – there is no more need for microfilters, DSL or phone lines.
Cables
Instead of the DSL (digital subscriber line) used in FTTC services, FTTP uses an ethernet cable (a newer technology) to plug in to your router.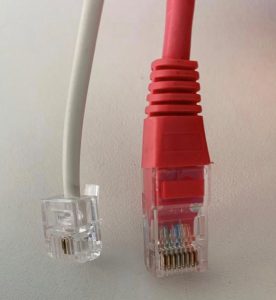 Left: a DSL cable. Right: an ethernet cable.
Routers
Upgrading means you will typically need a new router too, to support the ethernet 'WAN' connection that FTTP uses. An important, but sometimes overlooked, point is to make sure that your router will support your new FTTP connection speeds. You may have 900Mbps FTTP capability, but if your router only supports 100Mbps on the native ethernet ports and only 300Mbps on the wireless, you will never achieve your maximum potential speeds.
Learn more about FTTP in our knowledge base:
About Beaming
We are an Independent Internet Service Provider for UK businesses. Serious about service with a network built for business; we make sure you stay connected.
From the resilient and secure network we've built, to the choice of tailormade products all supplied with expert service, we provide peace of mind that businesses require.