How long does Fibre To The Premises broadband installation take?
Posted on 28 July 2023 by Beaming Support
When installing a fibre broadband connection, most users can get connected in two to three weeks – but there are multiple factors that can influence how quickly you are able to get connected. Here's a quick guide to let you know how quickly you can expect to get your Fibre To The Premises (FTTP) – also known as ultrafast broadband – activated once you've placed your order.
If you already have FTTP equipment installed
An ONT (Optical Network Terminal) is the piece of equipment used to connect your premises to the green cabinet using fibre – you need one to enable your FTTP connection. An ONT replaces the Openreach Master Socket, that is used with Fibre To The Cabinet connections.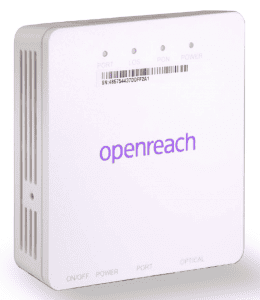 An Optical Network Terminal (ONT)
If there is already an ONT in your premises – which is often the case with new build properties – it simply needs to be activated, which will take approximately 2 working days from the day you order your ultrafast FTTP service. This is known as a '0 stage install'.
If you do not have FTTP equipment installed
If you do not have an ONT at your premises, you will require a visit from an Openreach engineer to install one. At the time of writing, the engineer visit will occur approximately 15-20 working days after you have placed your order (in some cases, this can be as low as 10-15 working days).
When placing your order, you will be given an installation date.
Will the engineer need to access the premises?
If an ONT needs to be installed, yes – as it must be installed inside the premises. Make sure you will be available to let your engineer into your premises on your installation date.
1 stage and 2 stage install
Installations take place by either a '1 stage install' or '2 stage install':
A 1 stage install is where just one engineer visit is needed – they will install the ONT on the day they visit.
A 2 stage install will occur if external engineering work is required. The first stage will involve a survey, and any external works needed to bring the fibre cable to your premises. The second stage will be the installation.
You will be told the type of installation you will need when you place your order.
How long will the engineer be at the premises for?
This can vary depending on the complexity of the installation, but allow for approximately 3 hours.
How frequently will I be updated about my FTTP order and installation?
With Beaming, you will be updated every step of the way. From the date you place your order to your installation date, you will be kept in the loop about the status of your FTTP install and supplied with your configuration details in advance. We will also send you a pre-configured router suitable for FTTP, which will arrive in time for your installation.
Our knowledge base contains more helpful articles about FTTP:
Ready for ultrafast broadband? Contact us today
No two businesses or locations are the same, that's why we don't publish prices but provide quotes accurate for your requirements. Complete the form below and we'll get back to you as soon as possible:
About Beaming
We're Beaming, a specialist internet service provider (ISP) for businesses. We've been helping organisations across the UK with fast, reliable, and secure voice and data connectivity, as well as managed services, since 2004.
From the resilient and secure network we've built, to the choice of tailormade products all supplied with expert service, we provide peace of mind that businesses require.
We know that your business is unique, so we take the time to get to know you and your specific needs. If you're looking for a reliable ISP for your business, we'd love to chat.