The importance of network documentation
Posted on 6 September 2017 by Beaming Support
Network documentation is extremely important.
When building any network, documentation is extremely important. Good documentation will assist your colleagues in working out where a problem lies when troubleshooting, as well as allow others to understand how devices communicate. By documenting the network layout as you go, you will save time later and give yourself a path to track back if you make changes to the network.
Without any network documentation, diagnosing and resolving faults will take longer, which means more downtime than necessary for your customer.
Network documentation can include anything from a map of the network, to a simple document that matches IP addresses to a device.
As an example, let's say that we have a simple network that contains a router, switch, server, access point and two hosts. The below would suffice for documentation.
Basic Network Map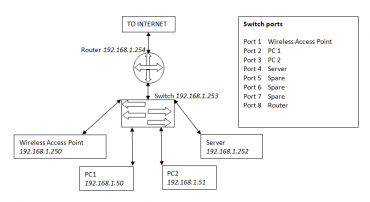 Using this network documentation you can save a lot of time when diagnosing issues, including problems similar to the examples below:
Problem 1: 
Users are unable to get to a network share, as the server's Ethernet cable has been accidentally removed.
Resolution: You colleagues can check to see if switch port 4 is up (server port). When this fails, they know that the issue is localised to the server. They can now direct their efforts towards the server.
How a lack of network documentation could cause issues: The port would show as being down which could lead them to going down the wrong path to find the cause of the issue. This would add unnecessary time to the diagnostic process and would cause the customer longer down time.
Problem 2:
All PCs are able to access the internet, but no wireless devices can access the Internet.
Resolution: Check the switch port or try and browse to the wireless access point's webpage, using the IP address. Either of these will assist in finding the cause of the issue.
How a lack of network documentation could cause issues: In the second problem, without knowing the IP of the access point you would not be able to try and ping it, nor would you know which IP to go to in a browser.
A simple network map and switch ports list can save someone a great deal of time.
In a more complex network, the switch ports could be in different VLANs. This would make it even more important to know which device should be in which port, as the wrong port could have security implications or mean that a customer is completely down for an extended period of time.
Resolving an issue as quickly as possible is the best policy for serving customers. Documentation will always help in this regard, so the best policy is to document as you go.
Want to avoid network downtime?
Sign up for Beaming's monthly email updates & receive news on the latest tech to keep you online, simple shareable advice to help colleagues avoid cyber threats & how-to guides from our experienced tech team.