How do I find the full location of a network drive?
Posted on 4 December 2018 by Beaming Support
In order to find the full location of a network drive that is mapped to your PC, please follow the below steps.
1. Open up the command terminal. This can be done by either typing in "cmd" into the search area on the start menu, or by pressing the "Windows key" and the letter "R" to bring up the "Run" box on your screen and then type into this box "cmd". Once entered, press "OK" and this will open the command terminal.
2. The command terminal will appear as per the below image:
3. On the command terminal, please then type the following: "net use".
4 .Once this is entered, it will show you a full list of all the network drives mapped.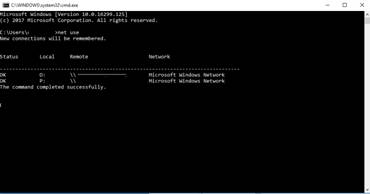 This output will have the full network paths for any of the mapped network drives.
Is ultrafast FTTP available to you?
Broadband with speeds up to 300Mbps, with low contention and business-ready reliability.