What's the difference between a fibre optic leased line & FTTP?
Posted on 29 April 2019 by Beaming Support
The benefits of fibre are well recognised now, and as companies get bigger they are investing at a greater rate in faster and more reliable technologies. However it is not often clear what the different options often labelled as fibre actually mean, in this post we explain the differences between Fibre To The Premises and a dedicated fibre optic leased line.
At a glance
| | | |
| --- | --- | --- |
| | FTTP | Leased line |
| Maximum possible speed | 1Gbps in some locations | 10Gbps |
| Standard fault repair time | Up to 2 working days | Within 5 hours |
| Symmetric upload & download speeds? | No | Yes |
| Shared infrastructure? | Yes | No |
| Connection Performance | Variable latency, no performance  guarantees, variable contended speeds | Guaranteed consistent performance and dedicated uncontended bandwidth |
| Best suited to | Residential use and small/home businesses that want a speedy connection but aren't reliant on their connection's stability or availability. | Medium to large businesses that use cloud applications/VoIP/transfer large amounts of data. Businesses that need 24/7, 365 reliability. |
Want to know more about FTTP?
Want to know more about leased lines?
 What is FTTP?
Fibre To The Premises (FTTP) is a kind of internet connection designed for consumer and small business use.  It's called Fibre to the Premises because it sends data from the exchange to the user's premises entirely over fibre optic cabling, using existing broadband infrastructure  (unlike an FTTC connection, where data travels part of its journey over copper wire).
When a user sends data out to the internet, it travels through fibre cable to a node (usually nearby at the end of the road). From there, data enters the shared broadband infrastructure and travels on towards the public internet. This means users share bandwidth, which makes FTTP a contended service. Connection speeds are likely to slow at peak times and can become unreliable. As more users take up the FTTP service, this will only become more evident.
 What is a Leased Line?
A leased line, also called a fibre leased line, is a dedicated fibre optic service provided directly to the premises. Unlike FTTP, a leased line connects directly to the public internet over a dedicated fibre optic cable; there's no sharing of infrastructure as there is with FTTP.
The diagrams below show that whilst both technologies connect premises to the internet via fibre optic cable, the journey the data takes is very different.
FTTP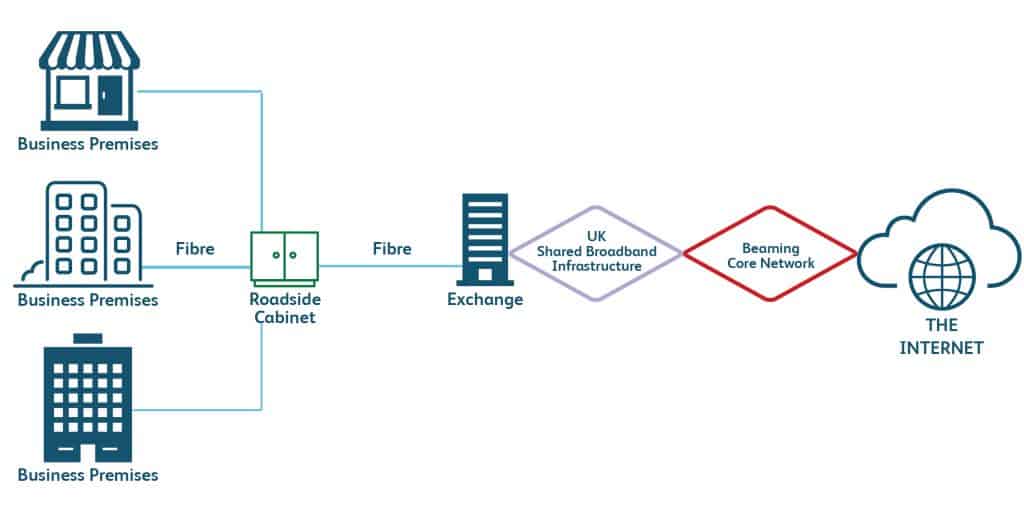 Fibre Optic Leased Line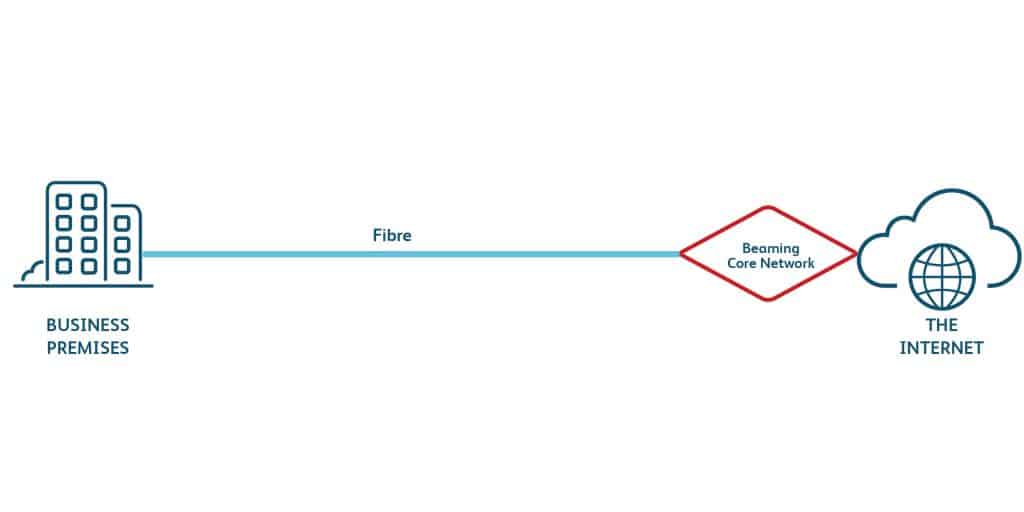 Speeds
Currently the highest download speeds available for an FTTP service range from between 300Mbps and 1Gbps depending on where you are situated.  Speeds are asymmetric, so the download speeds achievable will be significantly faster than upload speeds.
Leased lines can offer speeds to suit your requirements up to 10Gbps, with symmetrical download and upload speeds.  Speeds could be easily scalable if you opt for a larger bearer than the actual connection speed, meaning the fibre over which your data travels is capable of higher speeds than it is initially set up to provide.  This allows for a cheaper initial rental with capacity to upgrade to a faster connection in the future. For example, you could choose a 1Gbps bearer with a connection speed of 100Mbps.
 Service Levels
Not being specifically designed for critical business use service level agreements for FTTP aim for faults to be fixed within two working days. However, using an ISP focussed on connectivity for business should still give you the advantage of specialist support as well as additional security, high redundancy and the use of more advanced technology.
Service levels for leased lines provide quicker diagnostic and repair times in the case of any fault. Usually within 5 hours.
What should they be used for?
FTTP is best suited to residential use or to small businesses that need reasonably speedy connectivity but don't transfer large amounts of data nor rely on 24 x 365 connectivity.
A leased line is suited to business use by those that use cloud applications and/or VoIP, transfer a lot of large files, or need a connection with 365 days a year up time.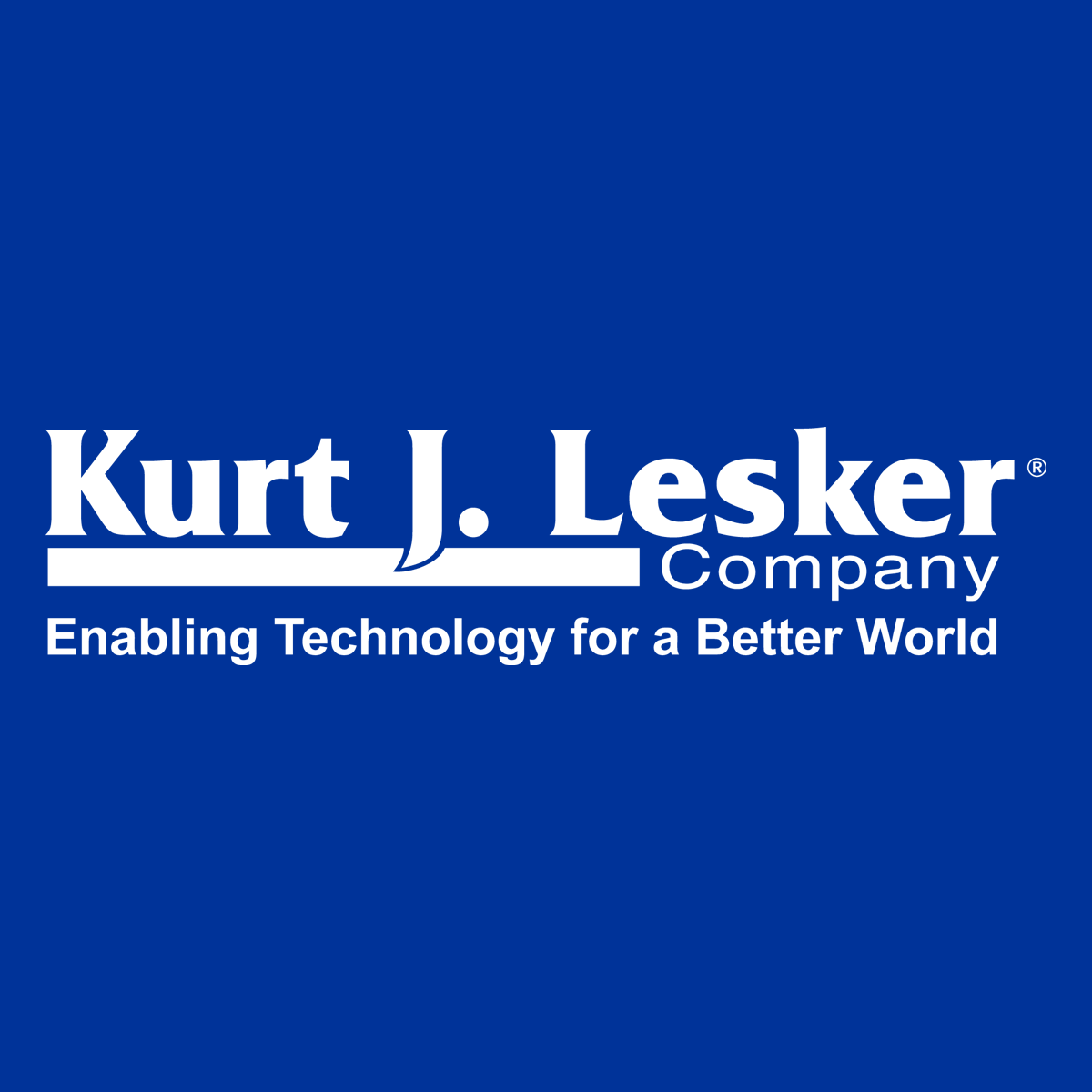 Fibre
Manufacturing
Data Security
Kurt J. Lesker Company
For security reasons, all of the Kurt J Lesker Company's data is held at its US base. This means the speed & security of the data connection between the US & the UK is crucial to the effective operation of KJLC's business.
How we helped
Get a quote
If you like speaking to an actual human, you're in luck. Fill in the form below and one of our expert team will get back to you within one working day to find out which type of connection would be best for your business.
We answer more questions in our Knowledge Base:
About Beaming
We are an Independent Internet Service Provider for UK businesses. Serious about service with a network built for business; we make sure you stay connected.
From the resilient and secure network we've built, to the choice of tailormade products all supplied with expert service, we provide peace of mind that businesses require.