Remote working: 10 essentials for the perfect home office setup
Posted on 2 January 2018 by Beaming Support
Is working from home becoming a permanent part of your week? From inspirational decor to uncontended connections, here are our top 10 essentials for a home office setup.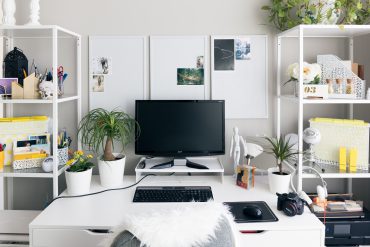 Lengthy commutes; the rising cost of travel; the difficulty of concentrating in a bustling office: whatever the reason, the prospect of working remotely (at home or in any location that's not your company's premise) has become an appealing one for many UK workers.
Let's assume you've cleared the hurdles (if necessary) of getting permission from your employer or coming up with a great business of your own. Now you've got to set up your home office, which may seem daunting! Having refined your business idea or spent time convincing your boss of the benefits of remote working, the last thing you want is to appear unprepared and unprofessional in your approach.
Don't worry, with a few simple measures we can help to prepare you for success. Here are our essentials for the optimal home office setup.
1. Whatever your business, you'll at least need some desk space to work on.
You should also include room for a lockable cupboard or filing cabinet, to keep prying eyes from any sensitive documents you may store. Hopefully you can dedicate a whole room to you home office setup, with a door that can be locked to keep any distractions out (remember this?) Bear in mind that parts of the room may well be visible to customers if you plan to collaborate online via webcam, so by all means make sure the decor is to your taste but be mindful that it's not too far from your brand's ethos and aesthetic.
2. Ergonomic equipment.
Invest in a good quality desk chair; you'll be spending a lot of time in it! A quick Google search for "ergonomic desk set up" will yield instructions on how to set up your chair, keyboard, mouse, screen and desk height to ensure that you are able to sit in the most comfortable and healthy position.
3. Be prepared to communicate.
Whatever field you work in, you'll have at least a handful of people you need to stay connected with at any given time. Email is tried and tested, and a telephone system that allows you to present one phone number whether you're in your home, at head office or even out and about will prove extremely useful. Even if you're wearing your pyjama bottoms with a business shirt on top, being able to communicate via video link will add an extra layer of professionalism,  building trust and rapport with clients you may never have met in person.  Of course to do this, you'll need an internet service capable of providing a seamless link. For creative types who may need to share large files with collaborators and customers, it's well worth considering a symmetrical connection, which provides upload speeds that equal the download speed.
THE BEAMRING CLOUD PHONE SYSTEM LETS YOU TAKE, MAKE & FIELD CALLS ANYWHERE, AS IF YOU WERE IN THE OFFICE
4. Surround yourself with whatever it is that inspires you to work.
Whether it's stacks of glossy magazines, lots of plants, or simply pictures of your family.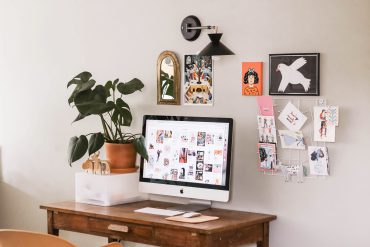 5. VPN remote access.
This one won't be necessary for a one man band business, but if you're working for a company, you'll need to be able to access corporate files, email, databases and more. To do this securely, your employer will have to set up a Virtual Private Network (VPN) to allow a safe link from the corporate network to your computer. Employers may provide remote workers with their own laptop to use when working from home as a way of ensuring that firewall, antivirus, spam filters etc. are up to scratch.
6. A good quality headset.
Don't underestimate this part of your home office setup when you plan to talk to colleagues and clients via VOIP (Voice Over Internet Protocol), a hosted voice service or with a video link. Relying on a mic and speaker alone can result in poor sound quality and a lot of annoying echo.
7. Use a business grade product.
Your phone and internet connection are vital to your operations, so treat them as such. Unlike an internet connection designed for residential use, a good business ISP will provide a connection that's not only speedy but low contention (not shared with many/any other users, in basic terms), covered by SLAs and supported by experts that understand your business.
Can I get business broadband at home?
8. Avoid distractions.
As much as possible, keep "work" office space separate from your "living" space; the whole point of working from home is that you avoid distractions. If you work best when the documents you need to review are piled up in your line of vision then great, keep a messy desk, but try to keep "work clutter" and "life clutter" separate. Working in a room next to a pile of laundry that needs ironing or has your children's' toys littered across the floor will only distract you.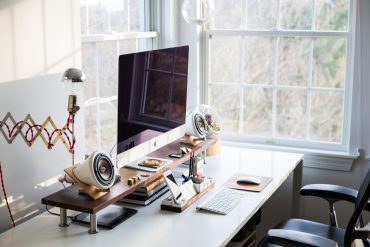 9. Password protect it.
At work, you're entrusted with all kinds of information, whether it be customer data, plans for upcoming projects or log ins for important accounts, you need to be mindful of keeping all this data safe. If you are connecting to your office via VPN, strong passwords that are kept private become even more significant, since anyone gaining access to your device would have access to not only your files but those of your company, too. In addition to good password hygiene, setting up two step verification is a good way to protect accounts.
Be alert to phishing attempts – cyber attacks are becoming more sophisticated by the day. Read about the latest scam, CEO fraud, and learn how you can avoid falling victim to it.
10. Back up.
To mitigate the risk of data loss, you'll need to ensure that it is backed up. Whilst cloud storage is certainly a convenient way of doing this for home workers, it's really important that you find out how and where your cloud provider stores information. Many make the mistake of thinking that data can be handed to a cloud provider and forgotten about, but it is you that ultimately retains responsibility for it.
How we support businesses with remote working
Our happy customers share the results they've achieved with the help of Beaming's connectivity and related services.
Products for secure remote work