If I have a fibre leased line, do I need a backup?
Posted on 1 March 2023 by Beaming Support
If your business needs a fast and reliable internet connection, a leased line can help to boost productivity and help to ensure you always stay connected. Not sharing bandwidth with anyone else means you avoid slow-downs or crashes at peak times, and your business can work seamlessly.
Why would you need a backup?
Overall, fibre leased lines are more reliable than broadband, but in rare cases, it is possible that they can stop working, slow down, or become unreliable. This could be caused by roadworks cutting through the cable, a fire affecting the fibre node, or there have even be occasions where fibre tubing has been mistaken for copper by thieves. In these instances, a backup will automatically kick in to keep your business online, giving you peace of mind that you won't ever be without a connection.
If your business uses a leased line, your connectivity is likely to be crucial for your operations. Consider what would happen to your business if you were to lose that connectivity for any reason. Would staff be able to work? Would customers be able to contact you? If the answer is 'no', then you should talk to your ISP about installing a backup.
What backup options are there?
When purchasing your leased line, discuss your options with your ISP – they should be able to recommend the most suitable solution for your particular business.
Diversely routed fibre: This uses multiple fibre cables and terminating equipment, so if your main leased line goes down, your connection automatically switches over to a separate line. This line is also routed from a separate exchange to your business, as an added layer of protection in case of an issue at the local exchange.
Because the hardware being used is identical, the speeds and bandwidth you will achieve via the backup is identical, too. If a fast, uncontended internet connection is essential for your business operations, this will be the best option for your backup.
Broadband backup: As it sounds, if your fibre leased line goes down, you will be instantly connected to an alternative connection that uses broadband technology such as FTTC or FTTP. This connection will not have the same performance as the fibre leased line, but in turn is a lower-cost option, for businesses that can operate with a drop in internet performance while the fault on their leased line is repaired.
4G or 5G backup: A 4G or 5G backup uses the same technology that your mobile phone uses to connect to the internet. Your router will detect if a problem arises on your main line, and switch over to the 4G or 5G signal. If your business depends on a leased line, it's unlikely that the speeds this can offer will allow your business to operate fully, but it is likely to be a better option than going completely offline.
Automated backups and notifications of failure
Ask your ISP what will happen if your business loses connection. If you don't have a backup, will you be notified instantly, or will you have to wait until your operations become interrupted to become aware of the issue?
At Beaming, we actively monitor all our networks – meaning your business can benefit from the highest level of confidence that we'll become aware of any faults with fibre leased lines as soon as possible, and can get straight to work on solving any issues – so you can focus on running your business.
We've shared lots of information on fibre leased lines in our knowledge base: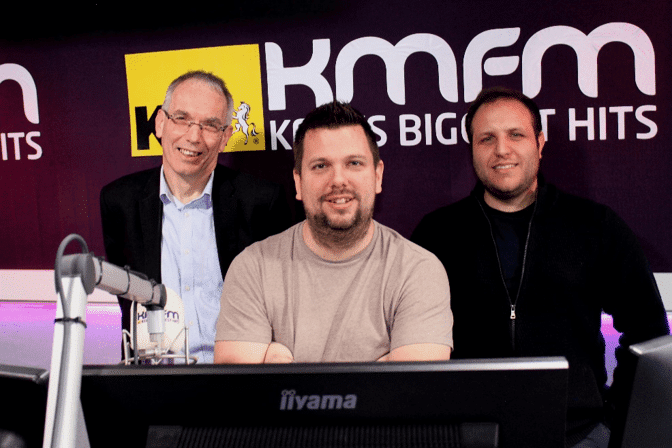 KMFM
With support for existing circuits due to be withdrawn, KMFM got ahead of the game & put a new digital network in place. It used the opportunity to make its service more resilient & improve sound quality, too.
How we helped
Get in touch
Beaming is an internet service provider specialising in connectivity for business. With our own network, UK-based technical experts and a focus on security, your connectivity is in safe hands with us. Call us on 0800 082 2868 or fill in the form below to discuss your project-managed fibre installation.
About Beaming
We are an Independent Internet Service Provider for UK businesses. Serious about service with a network built for business; we make sure you stay connected.
From the resilient and secure network we've built, to the choice of tailormade products all supplied with expert service, we provide peace of mind that businesses require.