The difference between broadband and fibre technologies
Posted on 5 August 2021 by Beaming Support
Want to know the difference between broadband and fibre technologies?
You may have heard the terms "fibre" and "broadband" used interchangeably and wondered why pricing then seems to be so different between them. As an Internet Service Provider for business, we provide connectivity to all kinds of businesses, and can explain the different broadband and fibre technologies you may come across and the best uses for each.
At a glance – fibre vs broadband
Broadband
Fibre
Technology types
FTTC / "superfast" broadband / "fibre" broadband

FTTP / "ultrafast" broadband / "full fibre" broadband /FTTH

Fibre optic leased line

Point to point leased line

Speed ranges
FTTC
Download: Up to 76 Mbps
Upload: Up to 19 MbpsFTTP
Download: Up to 1 Gbps
Upload: Up to 40 Mbps
Upload: Up to 10 Gbps

Download: Up to 10 Gbps

Pricing
£-££
££-£££
Uses
Email & browsing, Superfast or ultrafast broadband can support small numbers of users on VoIP & cloud apps.
Businesses of all sizes

All business applications

VoIP

Cloud

Critical infrastructure

Fault fix times (SLA)
Up to 2 business days
Within 5 hours of reporting
Expand this table for a detailed breakdown of each technology (Opens in a new window)
What's the main difference between fibre and broadband?
When we talk about "broadband", we're referring to FTTC or FTTP, and when we talk about "fibre" we mean fibre optic leased line connectivity.
A broadband connection, whether it be FTTC or FTTP uses some shared infrastructure to transmit data. Put very simply, when you're downloading a file, that data zooms down a pipe next to many files destined for different people. This means that while your connection may be capable of downloading at 80Mbps, you might not achieve this speed, or only at very quiet times.
With a fibre optic leased line, the fibre pipeline belongs only to your business and your travelling data doesn't compete with anyone else's. That means it gets to its destination faster and more securely; the speed you pay for is the speed you get.
The two diagrams below demonstrate the differences between broadband and fibre
Broadband: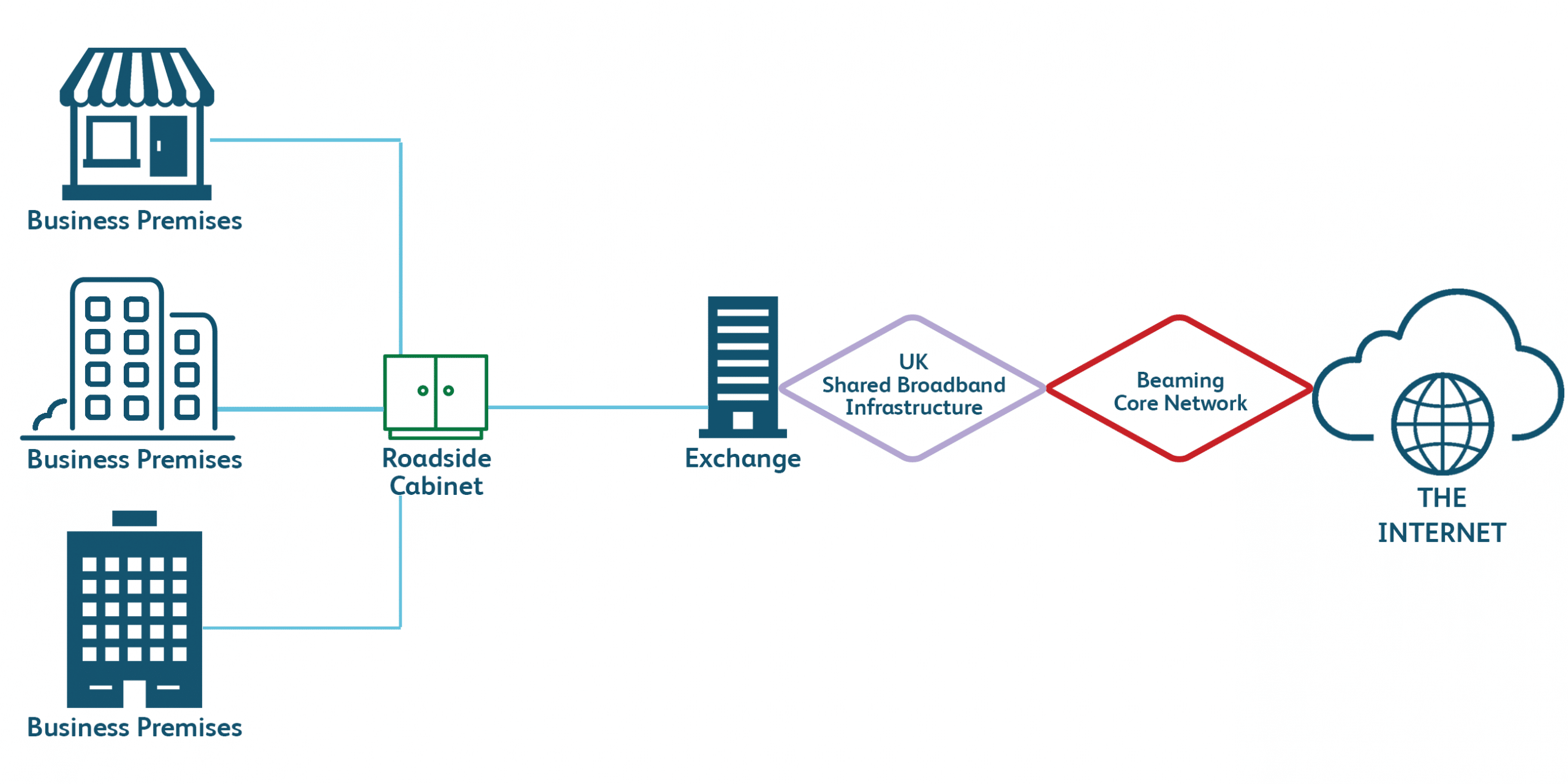 Fibre optic leased line: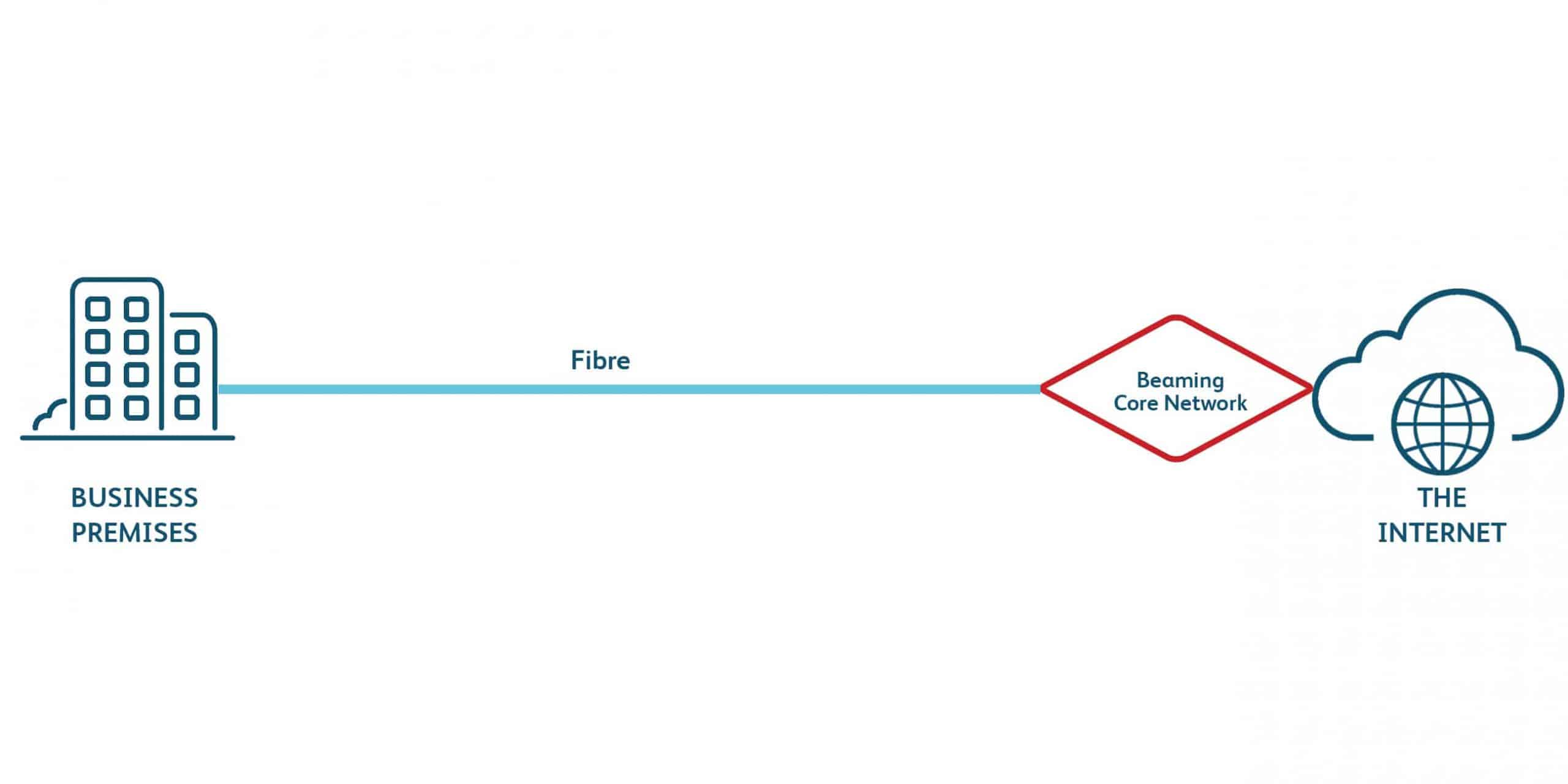 Why do the terms "broadband" and "fibre" get used interchangeably?
"Fibre" refers to fibre optic cable, which is able to transmit data at the speed of light – a big upgrade on the copper cables used in earlier internet connectivity.
Depending on the technology, broadband networks do use fibre optic cable to cover part or all of your data's journey, as outlined below.
 This is why some providers refer to FTTC and FTTP simply as "fibre" broadband.
In what other ways do broadband and fibre differ?
Service level agreements
With broadband, any problem reported should usually be fixed within two working days if you are a Beaming customer.
Opting for a fibre leased line means you're almost guaranteed 24x7x365 uptime, and if there is a problem the target fix time is within 5 hours of the issue being reported.
Reliability
This can vary from provider to provider but generally speaking broadband is pretty reliable. However, with shared infrastructure and more points of failure, it's not as reliable as a fibre leased line. Sharing the "pipe" also means that speeds can vary depending on demand, so you're likely to notice slow-downs at peak times with broadband.
A good business provider will offer monitoring of your leased line to keep an eye on its reliability, and because you're not sharing space in the "pipe" with any users outside of your business, you know that the speed you pay for is the speed you'll always get.
Security
Shared infrastructure and more possible points of entry mean that broadband isn't as secure an option as a fibre leased line, which again will usually come with monitoring that can detect and deflect threats.
Your choice of connectivity alone won't be enough to comprehensively protect you from cyber threats, so make sure you're up to speed by reading more about how we can help with cyber security.
Installation time
Most businesses in the UK will have in place existing infrastructure FTTC broadband, so you can be up and running in a matter of days. When it comes to FTTP, you're limited to whether providers have already installed infrastructure, so in some cases you could be in for quite a wait before FTTP reaches you.
When you go for a fibre optic leased line, installation time is very much dependent on your location and any existing infrastructure in your area, but averages at a lead time of around 30 working days.
Price
The cost of a fibre leased line is a step up from broadband pricing, as you're getting dedicated connectivity as well as the benefits detailed above. You can find out more about how you may be able to get free or reduced installation in this post.
Now that you have an overview of the difference between fibre and broadband, dive into more detail with following guides:
Ready to get connected with broadband or fibre?
Beaming is an internet service provider specialising in connectivity for business. Even if you're not quite sure what you need, get in touch using the form below or by calling 0800 082 2868 and one of our friendly team will help you weigh up your options.
About Beaming
We are an Independent Internet Service Provider for UK businesses. Serious about service with a network built for business; we make sure you stay connected.
From the resilient and secure network we've built, to the choice of tailormade products all supplied with expert service, we provide peace of mind that businesses require.