Are cloud phone systems secure?
Posted on 28 April 2023 by Beaming Support
For many businesses, the idea of moving their phone system to the cloud raises important questions surrounding the topic of security.
If you are considering moving your business phone system to the cloud, it's understandable you will want to review if the system is secure and will provide the resilience your business needs. In this article we explain what cloud phone systems are, how they work and importantly, how you can make sure they are secure.
What is a cloud phone system?
To put it simply, it is a system that uses Voice over Internet Protocol (VoIP), instead of the traditional analogue phone line. Cloud phone systems are hosted on remote servers, and accessed via the internet, instead of on-site.
Cloud phone systems can come with a wide range of features: including automatically recording and uploading phone calls to the cloud, integrated video capabilities, and allowing you to call from anywhere while presenting your office phone number (to name a few). Find the full list of features that BeamRing provides here. 
How do cloud phone systems work?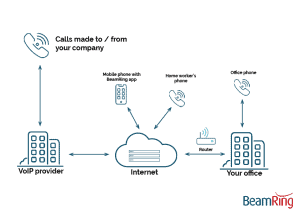 With the ISDN switch off looming ever closer, many businesses are making the move to the cloud ahead of time, in order to stay connected. But some are anxious to make the move – citing data security as their main concern.
What makes a cloud phone system secure?
Security features
As your cloud phone system is hosted by your VoIP provider, the system is as secure as your provider makes it. There are many ways to protect your data; through firewalls, encryption, network monitoring, multi-factor authentication methods, anti-virus software and more.
When comparing providers, make sure you ask how they will keep your system secure.
Upgrades
Cloud phones can actually be more secure than traditional phone systems – your VoIP provider can remotely upgrade your systems as soon as new security measures are developed, so you always benefit from the latest security updates. When choosing your VoIP provider, make sure to compare the security levels different providers offer, as well as checking any external security accreditations they hold. For example, Beaming has ISO27001 and ISO 9001 certifications.
Compliance
If your business takes sensitive information from customers (such as credit card numbers), call recordings can be automatically paused so the data isn't uploaded to the cloud, helping you to stay compliant with PCI DSS.
Multiple servers
Traditional phone systems rely on one primary server, which results in downtime should that server fail. Cloud phone systems are hosted across multiple servers – so if there is an issue with one, a backup server will take over.
Disaster recovery
In case of a disaster, such as a flood, fire, or break in at your business premises, a cloud phone system allows your business to keep your phone lines operational. Smartphones and PCs can be used to make and receive phone calls, allowing you one less thing to worry about should the worst happen.
Remote access
With a traditional phone system, when you face a problem, you'll have to wait for a technician to come to your business to fix the issue, which at best could take a few hours, and at worse, days or more. With a cloud phone system however, everything can be accessed remotely by your VoIP provider – so problems can be resolved faster (and in some cases, before you even know there's an issue!).
Expert partners
The company that hosts your VoIP system should employ professionals who specialise in cloud phone systems – so you don't need to train these skills in-house. That is certainly the case here at Beaming, as well as being experts in cloud telephony, we are ISO 27001 certified and cyber security is at the forefront of everything we do (find out more here: https://www.beaming.co.uk/why-beaming/).
What if you lose internet connection?
If your cloud phone system loses connection, you have a few options.
Firstly, if your cloud phone system has a compatible App, such as with BeamRing User Plus, users can operate calls from mobile phones as if they are in the office. This way, if your main internet connection goes down, calls can be made from mobiles, while still displaying your office phone number to callers and without having to organise any forwards or re-directs.
As the phone system is hosted in the cloud and not on your business premises, you can plug handsets in to a different location that does have internet connection, and they will continue to operate as usual.
Another option is to ensure you have a backup internet connection in place. For businesses that rely on the internet for uploading and downloading a lot of data, we recommend this anyway – downtime can not only affect your profits, but your reputation too. If your business uses a fibre leased line, we've written an article detailing the options you have for a backup.
Ultimately, the security of cloud phones depends upon the provider you choose – but there are many features available that can make your cloud phone system more secure than your traditional phone system.
With the ISDN switch off around the corner, businesses will have to consider making the move to cloud phone systems soon, and it's important you choose a cloud partner you can rely on. Learn more about Beaming's cloud phone system, BeamRing, here, or give us a call on 0800 082 2868.
Did you find this helpful?
We publish articles to support businesses stay secure and connected. If you would like to have this free advice drop in to your inbox, just once a month, subscribe below:
Learn more about VoIP systems in our Knowledge base
About Beaming
We are an Independent Internet Service Provider for UK businesses. Serious about service with a network built for business; we make sure you stay connected.
From the resilient and secure network we've built, to the choice of tailormade products all supplied with expert service, we provide peace of mind that businesses require.